Jeane Dixon
Jump to navigation
Jump to search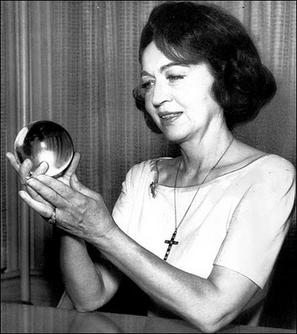 Jeane Dixon (January 5, 1904 – January 25, 1997) was one of the best-known American psychics and astrologers of the twentieth century, due to her syndicated newspaper astrology column, some well-publicized predictions, and a best-selling biography.
Early life
Dixon was born Lydia Emma Pinckert, one of 10 children born to German Catholic immigrants, Gerhart and Emma Pinckert, in Medford, Wisconsin, but raised in Missouri and California. Dixon claimed that while growing up in California, a "Gypsy" gave her a crystal ball and read her palm, predicting she would become a famous seer and advise powerful people.
She was married to James Dixon, who had been previously divorced, from 1939 until his death. In southern California, her future husband, James "Jimmy" Dixon, owned an automobile dealership with Hal Roach, an American film and television producer and director. He later ran a successful real estate company in Washington, D.C. where Dixon worked for many years and served as the company's president. The couple had no children.
Career as a psychic
Dixon reportedly predicted the assassination of President John F. Kennedy. In the May 13, 1956, issue of Parade Magazine she wrote that the 1960 presidential election would be "dominated by labor and won by a Democrat" who would then go on to "be assassinated or die in office though not necessarily in his first term". In 1960, as the election neared, she changed her mind and incorrectly predicted that Richard Nixon would win. She later admitted she "saw Richard Nixon as the winner" and made unequivocal predictions that he would win.
Dixon wrote seven books, including her autobiography, a horoscope book for dogs, and an astrological cookbook. She gained public awareness through the biography A Gift of Prophecy: The Phenomenal Jeane Dixon, written by syndicated columnist Ruth Montgomery. Published in 1965, the book sold more than 3 million copies. She was a devout Roman Catholic and attributed her prophetic ability to God. Another million-seller, My Life and Prophecies, was credited "as told to Rene Noorbergen", but Dixon was sued by Adele Fletcher, who claimed that her rejected manuscript was rewritten and published as that book. Fletcher was awarded 5% of the royalties by a jury.
Richard Nixon followed Dixon's writing through his secretary, Rose Mary Woods, and met with Dixon in the Oval Office in 1971. The following year, her prediction of terrorist attacks in the United States in the wake of the Munich massacre spurred Nixon to create a cabinet committee on counterterrorism. She was one of several astrologers who gave advice to Nancy Reagan.
Dixon predicted that before the end of the twentieth century, a pope would suffer bodily harm while another would be assassinated. This would correspond with the attempted assassination of Pope John Paul II, and allegations of assassination of Pope John Paul I. She also stated that dissatisfied cardinals would replace a serving pope.
In her 1971 book The Call to Glory, Dixon predicted that an apocalyptic "war of Armageddon" would occur in 2020. In her 1969 book My Life and Prophecies, she apparently predicted a war between China and Russia would occur between 2025 and 2037, initiated and won by China.
Death
Dixon suffered cardiac arrest and died at Sibley Memorial Hospital in Washington, D.C., on January 25, 1997. Before her death, she uttered the words "I knew this would happen." Many of her possessions ended up with Leo M. Bernstein, an investor and banker in Washington, D.C., whose clients included Dixon. In 2002, he opened the Jeane Dixon Museum and Library in Strasburg, Virginia. Bernstein died in 2008. In July 2009, the possessions of the museum, 500 boxes in all, were scheduled to be auctioned.