Robert Fludd
Jump to navigation
Jump to search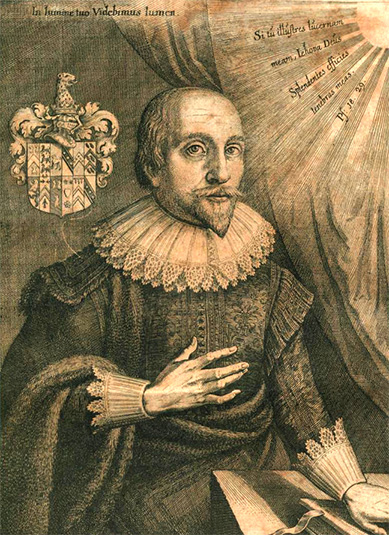 Robert Fludd, also known as Robertus de Fluctibus (17 January 1574 – 8 September 1637), was a prominent English Paracelsian physician with both scientific and occult interests. He is remembered as an astrologer, mathematician, cosmologist, Kabbalastic magician and Rosicrucian.
Fludd is best known for his compilations in occult philosophy. He had a celebrated exchange of views with Johannes Kepler concerning the scientific and hermetic approaches to knowledge.
Early life
He was born at Milgate House, Bearsted, Kent, around 17 January 1573/4. He was the son of Sir Thomas Fludd, a high-ranking government official (Queen Elizabeth I's treasurer for war in Europe), and Member of Parliament. His mother was Elizabeth Andrews Fludd. A collage of 12 Coats of Arms of Fludd ancestors are shown in the painting above his right shoulder. His paternal arms goes back to Rhirid Flaidd whose name originates from Welsh meaning "bloody wolf" or "red wolf."
Education
He entered St John's College, Oxford as a commoner in 1591, graduating with a B.A. in 1597 and an M.A. in 1598. St John's College, Oxford was one of the few in England with any provision for Fellowship (medicine); William Huffman suggests that the presence of a Medical Fellow at St John's College, Oxford influenced Fludd's interest in studying medicine. During Fludd's time at St John's College, the Medical Fellow in residence was Matthew Gwinne; Gwinne had previously produced a tract indicating that, while he practiced Galenic medicine, he was also familiar with the main Paracelsian medical work. Fludd may have encountered Gwinne, or his writing, during his time at Oxford, providing an additional influence for his later medical philosophy and practice.
Career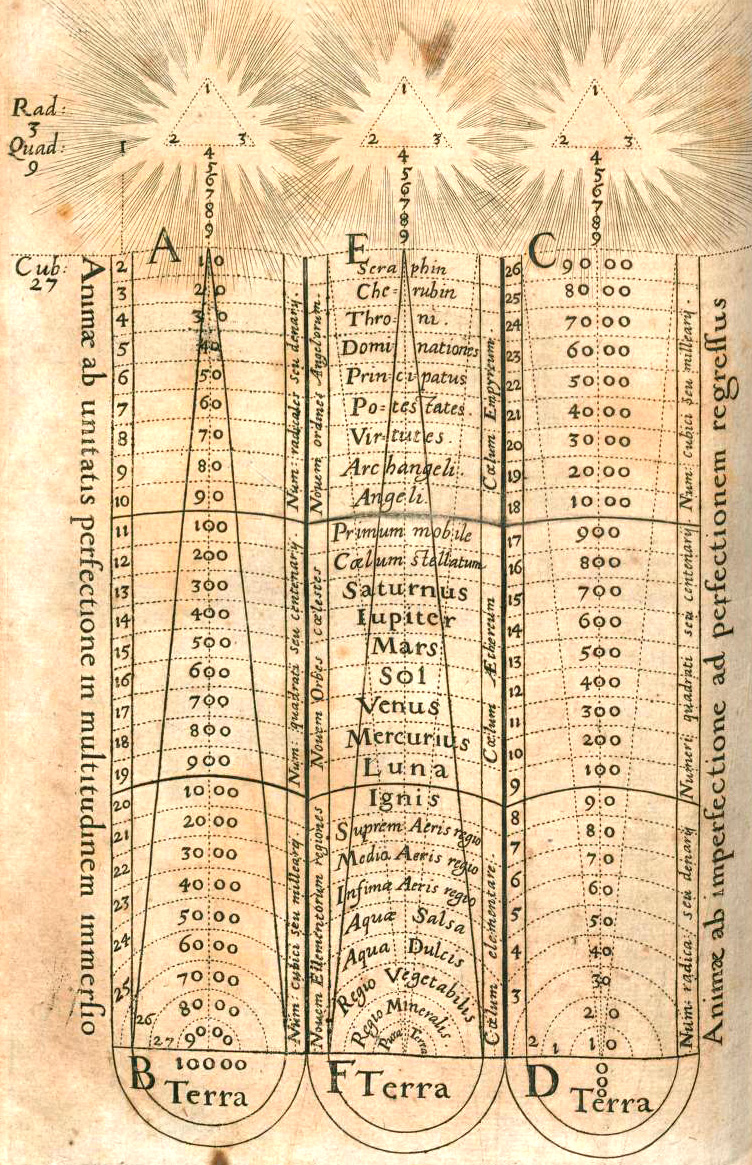 Between 1598 and 1604, Fludd studied medicine, chemistry and hermeticism on the European mainland following his graduation. His itinerary is not known in detail. On his own account he spent a winter in the Pyrenees studying theurgy (the practice of rituals) with the Jesuits. Furthermore, he indicated that he travelled throughout Spain, Italy and Germany following his time in France.
Upon returning to England in 1604, Fludd matriculated to Christ Church, Oxford. He intended to take a degree in medicine. The main requirements to obtain this, at the time, included demonstrating that he (the supplicant) had read and understood the required medical texts—primarily those by Galen and Hippocrates. Fludd defended three theses following these texts, and on 14 May 1605, Fludd made his supplication. He graduated with his M.B. and M.D. on 16 May 1605.
After graduating from Christ Church, Fludd moved to London, settling in Fenchurch Street, and making repeated attempts to enter the College of Physicians. Fludd encountered problems with the College examiners, both because of his unconcealed contempt for traditional medical authorities (he had adopted the views of Paracelsus), and because of his attitude to authority—especially those of the ancients like Galen. After at least six failures, he was admitted in September 1609. He became a prosperous London doctor, serving as Censor of the College four times (1618, 1627, 1633, and 1634). He also participated in an inspection of the London apothecaries put on by the College in 1614, and helped to author the Pharmacopoeia Londinensis in 1618—a directory of standardized pharmaceutical preparations given by the London College of Physicians. He became such an established figure within the College that he was included in seventeenth-century critiques of the college, including those by Nicholas Culpepper and Peter Coles.
Subsequently, both his career and his standing in the College took a turn very much for the better. He was on good terms with Sir William Paddy. Fludd was one of the first to support in print the theory of the circulation of the blood of the college's William Harvey. To what extent Fludd may have actually influenced Harvey is still debated, in the context that Harvey's discovery is hard to date precisely. The term "circulation" was certainly ambiguous at that time.
Death
Fludd died on 8 September 1637 in London. He was buried in Holy Cross Church, Bearsted.
Works
Fludd's philosophy is presented in Utriusque Cosmi, Maioris scilicet et Minoris, metaphysica, physica, atque technica Historia (The metaphysical, physical, and technical history of the two worlds, namely the greater and the lesser, published in Germany between 1617 and 1621); according to Frances Yates, his memory system (which she describes in detail in The Art of Memory, pp. 321–341) may reflect the layout of Shakespeare's Globe Theatre.
In 1618, Fludd wrote De Musica Mundana (Mundane Music) which described his theories of music, including his mundane (also known as "divine" or "celestial") monochord.
His 1623 book Meteorologica Cosmica contains many of his Kabbalistic theories, but also attempts to explain earthly weather and various meteorological phenomena through religious or astrological means. Fludd extensively discusses archangels and the hierarchy of angels in this text.
In 1630, Fludd proposed many perpetual motion machines. People were trying to patent variations of Fludd's machine in the 1870s. Fludd's machine worked by recirculation by means of a water wheel and Archimedean screw. The device pumps the water back into its own supply tank.