Uranus
Jump to navigation
Jump to search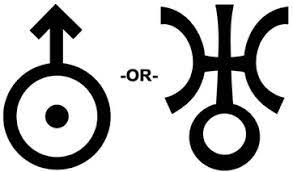 Uranus is the seventh planet from the Sun. Its name is a reference to the Greek god of the sky, Uranus, who, according to Greek mythology, was the great-grandfather of Ares (Mars), grandfather of Zeus (Jupiter) and father of Cronus (Saturn). It has the third-largest planetary radius and fourth-largest planetary mass in the Solar System. Uranus is similar in composition to Neptune, and both have bulk chemical compositions which differ from that of the larger gas giants Jupiter and Saturn. For this reason, scientists often classify Uranus and Neptune as "ice giants" to distinguish them from the other giant planets.
Astrology
In astrology, Uranus rules surprise and all things unexpected. It also rules the future and new technology, including all that is newly invented and all that is unimagined and yet to come. It is the "father" of electricity.
Innovative, unpredictable, resourceful, imaginative, idiosyncratic and experimental, Uranus also rules creativity and scientific genius. Uranus's job is to break rules and demolish established patterns or structures, creating sudden-even radical-change. Uranus always works in sudden ways, and is called the Great Awakener.
Uranus gives a strong impulse for rebellion, independence, and even shock. Exciting and liberating, Uranus will overturn anything traditional, conventional or orthodox that it deems has outlived its usefulness.
This planet produces quick, liberating results, blending fact with intuition in its quest to discover universal truths. Uranus is considered the higher octave of intellectual Mercury, and is strongly objective and brainy, with no emotional side. Those people with strong Uranian influences in their charts are trailblazers and forerunners in their communities.
Since Uranus also holds sway over social change, it also regulates the global brotherhood of man and all humanitarian concerns, including environmental issues. Uranus rules the Aquarius.
This planet stays in a sign for seven years and therefore takes 84 years to circle the zodiac.