Alexander Pearce
Jump to navigation
Jump to search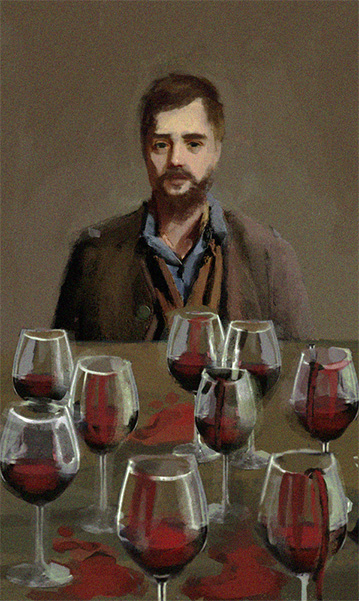 Alexander Pearce (1819 - 19 July 1824), also spelled Pearse, was an Australian convict on the island of Tasmania who consumed the flesh of five of his fellow convicts, two of whom he murdered, between 1822 and 1824.
Imprisonment on Tasmania
In 1819, Pearce was convicted of stealing six pairs of boots and sentenced to transportation to the penal colony on the island of Tasmania. He arrived in Hobart on March 4th, 1820, with a load of 50 Irish convicts. Pearce was christened "Prisoner 102" and put to work on the prison farm attached to the Campbell Street Gaol.
Throughout 1821, Pearce was repeatedly punished for breaking prison rules. Want of food drove him to steal two turkeys and three ducks, for which he was given 50 lashes and 14 days of hard labor, with solitary confinement at night. After this, he gave up any pretense of being a model prisoner and began openly flaunting his disobedience.
In May 1822, Pearce and six of his fellow prisoners decided they were fed up with prison discipline and planned an escape. He was encouraged by three convicts who had successfully escaped Campbell Street Gaol the month prior, only to be quickly recaptured. Just as the escaped felons were being led back to prison, Pearce and his friends made their break.
They remained on the run for less than two months and by July 8th, 1822, Pearce was back in custody, sentenced to a maximum security prison on Sarah Island in Macquarie Harbour.
At Macquarie Harbour Penal Station
Macquarie Harbour Penal Station housed the roughest of the rough. Most of the prisoners sent there had been deemed incorrigible. Some were serving life sentences. Others had accumulated so many infractions in Campbell Street Gaol that there was nowhere left to send them for harsher punishment. While Tasmania itself was already a destination for problem offenders, the penal station on Sarah Island was like a prison within a prison. The convicts called it Western Hell.
First escape from Macquarie Harbour
On the 20th of September 1824, Alexander Pearce and a small group of prisoners waited until everyone had gone to sleep, then, avoiding the guards, who were their fellow prisoners assigned to watch duty, seven of them went and collected the boat, sailing it quietly to the coal mine, where Robert Greenhill was waiting with provisions he had stolen from the coal miners. If rationed carefully, the food was thought to be enough to last them until they arrived safely in Hobart.
They were forced to scuttle the boat on nearby Philips Island and began walking toward Hobart. Their journey was not an easy one. Western Tasmania was, and still is, a wild, desolate wilderness dominated by steep mountains and thick forests. It was September, and the weather was worse than ever. For five days, the convicts suffered in heavy rain and bitter cold. With little food to sustain them, they struggled to ascend the rugged terrain and made slow progress.
Eventually, the men resorted to cannibalism to survive. Pearce later insisted that he never killed anyone, aside from Robert Greenhill in an act of self defense, even claiming to have given one of their victims a prayer book so he could say his last prayers. He did admit consuming the dead men's flesh due to overwhelming hunger. When Pearce finally emerged back in civilization, he joined up with a gang of sheep rustlers, and was captured along with the rest of the gang in July 1823 nine months on the run. The justices who heard his story did not believe his tale of cannibalism, thinking he made it up to protect his fellow prisoners who were still on the run.
Second escape from Macquarie Harbour
The court sent him back to Macquarie Harbour, where he was content to serve out the remainder of his sentence. He was assigned to a work gang alongside a young convict named Thomas Cox, who continually pestered Pearce to help him plan an escape. Pearce finally acquiesced to his demands and the two men ran from a work detail, heading north along the coast of the harbor.
There came a point when they had to cross a river, and Cox revealed that he could not swim. Pearce became so enraged that he took his axe and killed Cox. Then, despite there being plenty of provisions for him to eat, he cut up Cox's body, cooked, and ate it. Disgusted by what he had done, Pearce returned to the authorities and turned himself in, admitting to murdering Cox. As before, the magistrate was suspicious of Pearce's story, but the officer who found him presented a piece of Cox's body from Pearce's pocket as evidence.
Trial and execution
Alexander Pearce requested to give his confession to a Catholic priest, and Reverend Conolly came to his prison cell and took both a spiritual and a legal confession. The last words of Pearce were a detailed story about his long, difficult journey with seven other men through the Tasmanian wilderness in 1822. He absolved himself of murdering any of those men, aside from Robert Greenhill, which he claimed was in preemptive self defense.
On July 19th, 1824, Alexander Pearce was executed by hanging. His death decree included the stipulation that his body be dissected by the scientists in Hobart, who believed they might gain some special insight by examining the internal physiology of a confirmed cannibal. During the dissection, Pearce's head was sketched by an artist and his skull was preserved as a medical curiosity.