Eva Perón
Jump to navigation
Jump to search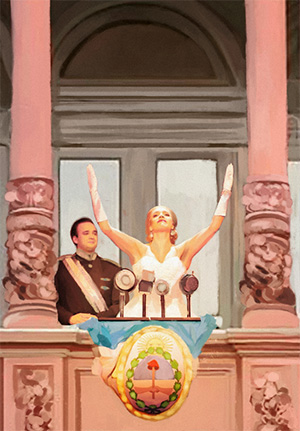 María Eva Duarte de Perón; née María Eva Duarte; (7 May 1919 – 26 July 1952), better known as just Eva Perón or by the nickname Evita, was an Argentine actress, politician, activist, and philanthropist who served as First Lady of Argentina from June 1946 until her death in July 1952, as the wife of Argentine President, Juan Domingo Perón (1895–1974).
Biography
Eva was born in poverty in the rural village of Los Toldos, in the Pampas, as the youngest of five children. In 1934, at the age of 15, she escaped her poverty-stricken village when she ran off with a young musician to the nation's capital of Buenos Aires to pursue a career as a stage, radio, and film actress.
She met Colonel Juan Perón on 22 January 1944 during a charity event at the Luna Park Stadium to benefit the victims of an earthquake in San Juan, Argentina. The two were married the following year. Juan Perón was elected President of Argentina in June 1946; during the next six years, Eva Perón became powerful within the pro-Peronist trade unions, primarily for speaking on behalf of labor rights. She also ran the Ministries of Labor and Health, founded and ran the charitable Eva Perón Foundation, championed women's suffrage in Argentina, and founded and ran the nation's first large-scale female political party, the Female Peronist Party.
In 1951, Eva Perón announced her candidacy for the Peronist nomination for the office of Vice President of Argentina, receiving great support from the Peronist political base, low-income and working-class Argentines who were referred to as descamisados or "shirtless ones". Opposition from the nation's military and bourgeoisie, coupled with her declining health, ultimately forced her to withdraw her candidacy. In 1952, shortly before her death from cancer at 33, Eva Perón was given the title of "Spiritual Leader of the Nation" by the Argentine Congress. She was given a state funeral upon her death, a prerogative generally reserved for heads of state.
Legacy
Eva Perón has become a part of international popular culture, most famously as the subject of the musical Evita (1976). Cristina Álvarez Rodríguez claims that Evita has never left the collective consciousness of Argentines, and she remains a popular folk saint. Although not a government holiday, the anniversary of Eva Perón's death is marked by many Argentines each year.
In his essay titled "Latin America" published in The Oxford Illustrated History of Christianity, John McManners claims that the appeal and success of Eva Perón are related to Latin American mythology and concepts of divinity. McManners claims that Eva Perón consciously incorporated aspects of the theology of the Virgin and of Mary Magdalene into her public persona. Historian Hubert Herring has described Eva Perón as "perhaps the shrewdest woman yet to appear in public life in Latin America".