Athanasius Kircher
Jump to navigation
Jump to search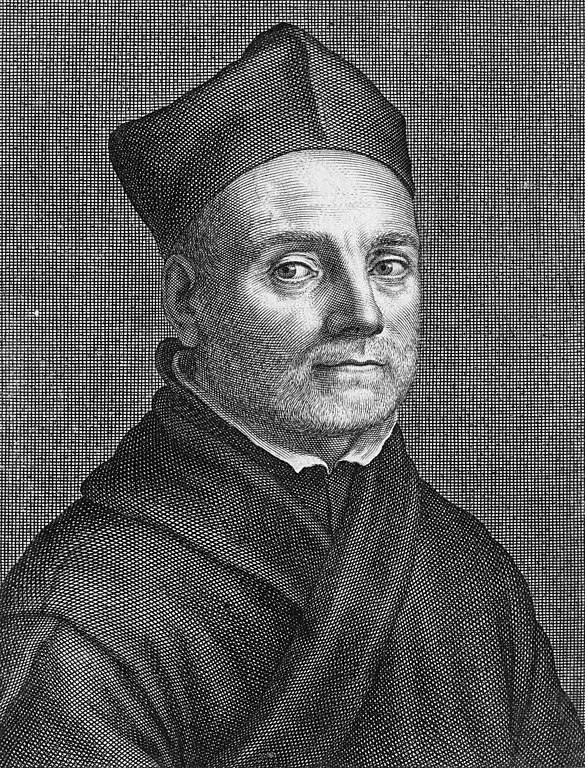 Athanasius Kircher (2 May 1602 – 27 November 1680) was a German Jesuit scholar and polymath who published around 40 major works, most notably in the fields of comparative religion, geology, and medicine. Kircher has been compared to fellow Jesuit Roger Joseph Boscovich and to Leonardo da Vinci for his enormous range of interests, and has been honored with the title "Master of a Hundred Arts." He taught for more than 40 years at the Roman College, where he set up a wunderkammer.
A resurgence of interest in Kircher has occurred within the scholarly community in recent decades.
Egyptology
Kircher claimed to have deciphered the hieroglyphic writing of the ancient Egyptian language, but most of his assumptions and translations in this field were later found to be incorrect. He did, however, correctly establish the link between the ancient Egyptian and the Coptic languages, and some commentators regard him as the founder of Egyptology. Kircher was also fascinated with Sinology and wrote an encyclopedia of China, in which he noted the early presence there of Nestorian Christians while also attempting to establish links with Egypt and Christianity.
Kircher's interest in Egyptology began in 1628 when he became intrigued by a collection of hieroglyphs in the library at Speyer. He learned Coptic in 1633 and published the first grammar of that language in 1636, the Prodromus coptus sive aegyptiacus. Kircher then broke with Horapollon's interpretation of the language of the hieroglyphs with his Lingua aegyptiaca restituta. Kircher argued that Coptic preserved the last development of ancient Egyptian. For this Kircher has been considered the true "founder of Egyptology", because his work was conducted "before the discovery of the Rosetta Stone rendered Egyptian hieroglyphics comprehensible to scholars." He also recognized the relationship between hieratic and hieroglyphic scripts.
Oedipus Aegyptiacus
Between 1650 and 1654, Kircher published four volumes of "translations" of hieroglyphs in the context of his Coptic studies. However, according to Steven Frimmer, "none of them even remotely fitted the original texts". In Oedipus Aegyptiacus, Kircher argued under the impression of the Hieroglyphica that ancient Egyptian was the language spoken by Adam and Eve, that Hermes Trismegistus was Moses, and that hieroglyphs were occult symbols which "cannot be translated by words, but expressed only by marks, characters and figures." This led him to translate simple hieroglyphic texts now known to read as ḏd Wsr ("Osiris says") as "The treachery of Typhon ends at the throne of Isis; the moisture of nature is guarded by the vigilance of Anubis."
Legacy
A scientific star in his day, towards the end of his life he was eclipsed by the rationalism of René Descartes and others. In the late 20th century, however, the aesthetic qualities of his work again began to be appreciated. One modern scholar, Alan Cutler, described Kircher as "a giant among seventeenth-century scholars," and "one of the last thinkers who could rightfully claim all knowledge as his domain." Another scholar, Edward W. Schmidt, referred to Kircher as "the last Renaissance man."
In A Man of Misconceptions, his 2012 book about Kircher, John Glassie writes that while "many of Kircher's actual ideas today seem wildly off-base, if not simply bizarre," he was "a champion of wonder, a man of awe-inspiring erudition and inventiveness," whose work was read "by the smartest minds of the time."