Buddhism
Jump to navigation
Jump to search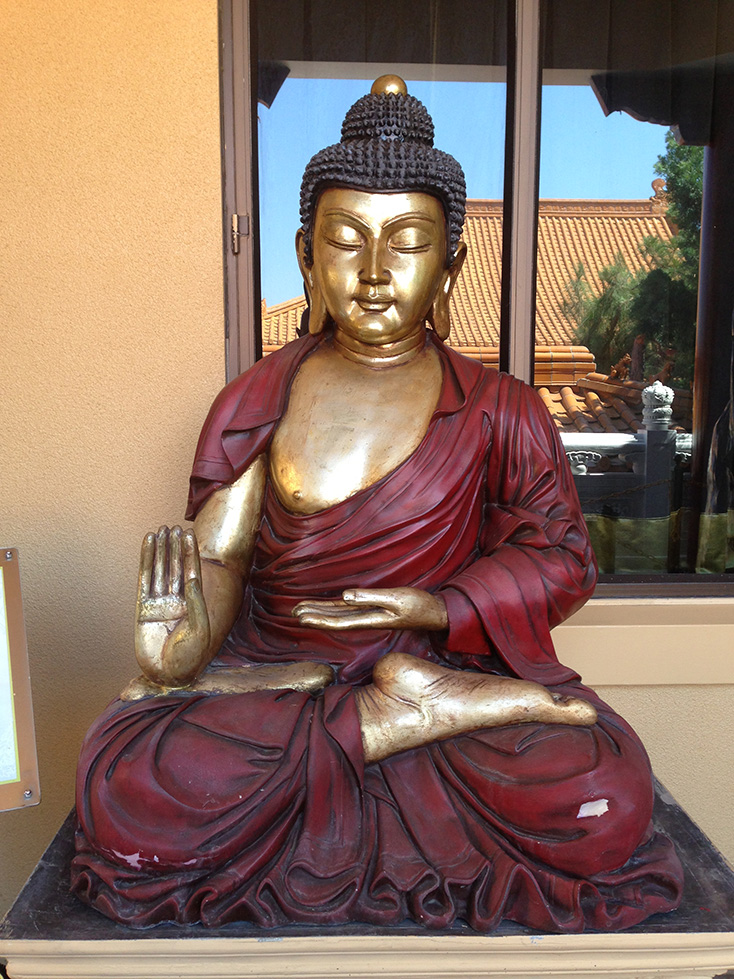 Buddhism also known as Buddha Dharma is an Indian religion or philosophical tradition based on teachings attributed to the Buddha. It originated in the eastern Gangetic plain as a śramaṇa–movement in the 5th century BCE, and gradually spread throughout much of Asia via the Silk Road. It is the world's fourth-largest religion, with over 520 million followers (Buddhists) who comprise seven percent of the global population.
The Buddha
Early texts have the Buddha's family name as "Gautama" (Pali: Gotama), while some texts give Siddhartha as his surname. He was born in Lumbini, present-day Nepal and grew up in Kapilavastu, a town in the Ganges Plain, near the modern Nepal–India border, and he spent his life in what is now modern Bihar and Uttar Pradesh.
Gautama was moved by the suffering of life and death, and its endless repetition due to rebirth. He thus set out on a quest to find liberation from suffering. After leaving his family behind, he first studied under two teachers of Hindu philosophy and learned the art of meditation. Finding these teachings to be insufficient to attain his goal, he joined a group of Jain monks who practiced severe asceticism, which included a strict fasting regime and various forms of breath control.
When he was unable to achieve enlightenment through either method, he went off on his own and meditated by himself. He sat in meditative absorption under a Bodhi tree near the town of Bodh Gaya and attained enlightenment. On awakening, the Buddha gained insight into the workings of karma and his former lives, as well as achieving the ending of the mental defilements, the ending of suffering, and the end of rebirth in saṃsāra. This event also brought certainty about the Middle Way as the right path of spiritual practice to end suffering. As a fully enlightened Buddha, he attracted followers and founded a monastic order.
The Buddha's teachings were propagated by his followers, which in the last centuries of the 1st millennium BCE became various Buddhist schools of thought, each with its own basket of texts containing different interpretations and authentic teachings of the Buddha; these over time evolved into many traditions of which the more well known and widespread in the modern era are Theravada, Mahayana and Vajrayana Buddhism.
Teachings
The Four Truths express the basic beliefs of Buddhism:
Life is full of suffering.
Suffering is caused by wanting things.
When we stop wanting things, we stop suffering.
The Eightfold Path is the way to end suffering.
An important guiding principle of Buddhist practice is the Middle Way (madhyamapratipad). It was a part of Buddha's first sermon, where he presented the Noble Eightfold Path that was a 'middle way' between the extremes of asceticism and hedonistic sense pleasures. The Eightfold Path consists of a set of eight interconnected factors or conditions, that when developed together, lead to the cessation of suffering. These eight factors are:
Right Understanding
Right Intention
Right Speech
Right Action
Right Livelihood
Right Effort
Right Mindfulness
Right Concentration
Vegetarianism
Based on the Jain principle of ahimsa (non-harming), the Buddha's ethics strongly condemn the harming of all sentient beings, including all animals. He thus condemned the animal sacrifice of the Brahmins as well hunting, and killing animals for food.
However, early Buddhist texts depict the Buddha as allowing monastics to eat meat. This seems to be because monastics begged for their food and thus were supposed to accept whatever food was offered to them. This was tempered by the rule that meat had to be "three times clean": "they had not seen, had not heard, and had no reason to suspect that the animal had been killed so that the meat could be given to them." Also, while the Buddha did not explicitly promote vegetarianism in his discourses, he did state that gaining one's livelihood from the meat trade was unethical.
Major branches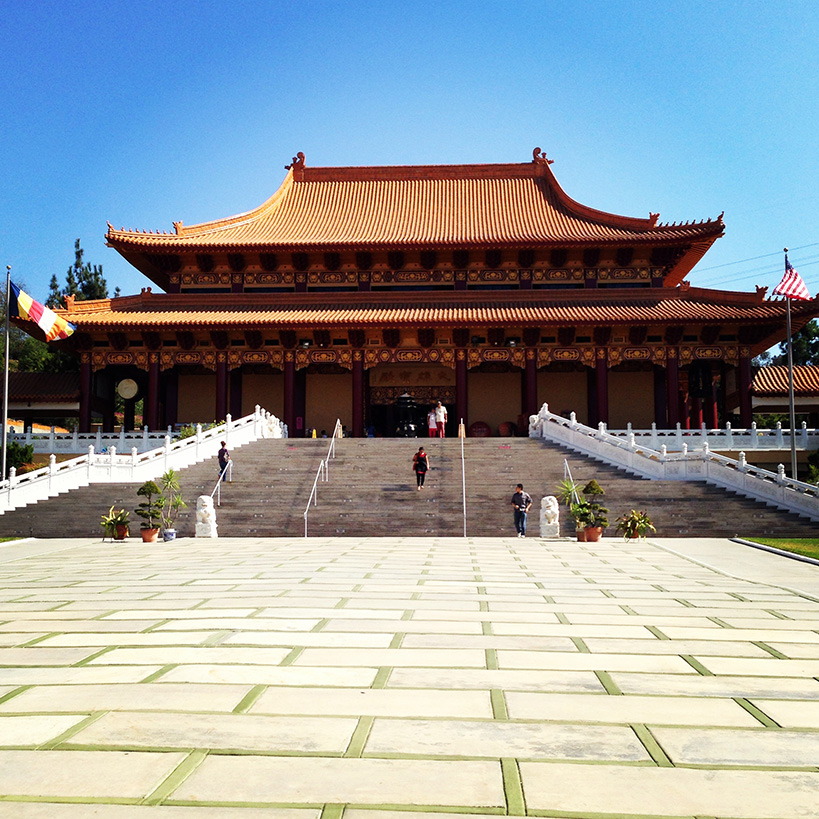 Buddhist schools vary in their interpretation of the paths to liberation as well as the relative importance and 'canonicity' assigned to various Buddhist texts, and their specific teachings and practices. Two major extant branches of Buddhism are generally recognized by scholars: Theravāda (lit. 'School of the Elders') and Mahāyāna (lit. 'Great Vehicle'). The Theravada tradition emphasizes the attainment of nirvāṇa (lit. 'extinguishing') as a means of transcending the individual self and ending the cycle of death and rebirth, while the Mahayana tradition emphasizes the Bodhisattva-ideal, in which one works for the liberation of all beings.
The Theravāda branch has a widespread following in Sri Lanka as well as in Southeast Asia, namely Myanmar, Thailand, Laos, and Cambodia. The Mahāyāna branch—which includes the traditions of Zen, Pure Land, Nichiren, Tiantai, Tendai, and Shingon—is predominantly practised in Nepal, Bhutan, China, Malaysia, Vietnam, Taiwan, Korea, and Japan. Additionally, Vajrayāna (lit. 'Indestructible Vehicle'), a body of teachings attributed to Indian adepts, may be viewed as a separate branch or tradition within Mahāyāna. Tibetan Buddhism, which preserves the Vajrayāna teachings of eighth-century India, is practised in the Himalayan states as well as in Mongolia and Russian Kalmykia.
Texts
Buddhism, like all Indian religions, was initially an oral tradition in ancient times. The Buddha's words, the early doctrines, concepts, and their traditional interpretations were orally transmitted from one generation to the next. The earliest oral texts were transmitted in Middle Indo-Aryan languages called Prakrits, such as Pali, through the use of communal recitation and other mnemonic techniques.
The first Buddhist canonical texts were likely written down in Sri Lanka, about 400 years after the Buddha died. The texts were part of the Tripitakas, and many versions appeared thereafter claiming to be the words of the Buddha. Scholarly Buddhist commentary texts, with named authors, appeared in India, around the 2nd century CE. These texts were written in Pali or Sanskrit, sometimes regional languages, as palm-leaf manuscripts, birch bark, painted scrolls, carved into temple walls, and later on paper.
Unlike what the Bible is to Christianity and the Quran is to Islam, but like all major ancient Indian religions, there is no consensus among the different Buddhist traditions as to what constitutes the scriptures or a common canon in Buddhism. The general belief among Buddhists is that the canonical corpus is vast. The Chinese Buddhist canon, for example, includes 2,184 texts in 55 volumes, while the Tibetan canon comprises 1,108 texts – all claimed to have been spoken by the Buddha – and another 3,461 texts composed by Indian scholars revered in the Tibetan tradition. The Buddhist textual history is vast; over 40,000 manuscripts – mostly Buddhist, some non-Buddhist – were discovered in 1,900 in the Dunhuang Chinese cave alone.
Global spread of Buddhism
Historically, until the early 2nd millennium, Buddhism was widely practised in the Indian subcontinent; it also had a foothold to some extent elsewhere in Asia, namely Afghanistan, Turkmenistan, Uzbekistan, and Tajikistan.
The 20th century saw a prolific growth of new Buddhist institutions in Western countries. The publication and translations of Buddhist literature in Western languages thereafter accelerated. After the second world war, further immigration from Asia, globalisation, the secularisation on Western culture as well a renewed interest in Buddhism among the 60s counterculture led to further growth in Buddhist institutions.
Influential figures on post-war Western Buddhism include Shunryu Suzuki, Jack Kerouac, Alan Watts, Thích Nhất Hạnh, and the 14th Dalai Lama. While Buddhist institutions have grown, some of the central premises of Buddhism such as the cycles of rebirth and Four Noble Truths have been problematic in the West. In contrast, states Christopher Gowans, for "most ordinary [Asian] Buddhists, today as well as in the past, their basic moral orientation is governed by belief in karma and rebirth." Most Asian Buddhist laypersons, states Kevin Trainor, have historically pursued Buddhist rituals and practices seeking better rebirth, not nirvana or freedom from rebirth.
While Buddhism in the West is often seen as exotic and progressive, in the East it is regarded as familiar and traditional. In countries such as Cambodia and Bhutan, it is recognised as the state religion and receives government support. In certain regions such as Afghanistan and Pakistan, militants have targeted violence and destruction of historic Buddhist monuments.
In the Western world, Buddhism has had a strong influence on modern New Age spirituality and other alternative spiritualities. This began with its influence on 20th century Theosophists such as Helena Blavatsky, which were some of the first Westerners to take Buddhism seriously as a spiritual tradition. More recently, Buddhist meditation practices have influenced the development of modern psychology, particularly the practice of Mindfulness-based stress reduction (MBSR) and other similar mindfulness based modalities. The influence of Buddhism on psychology can also be seen in certain forms of modern psychoanalysis.