Dion Fortune
Jump to navigation
Jump to search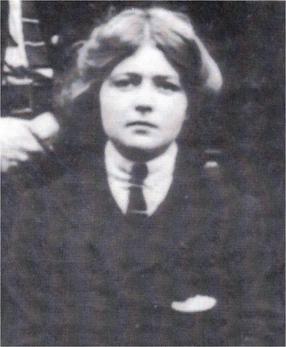 Dion Fortune (born Violet Mary Firth, 6 December 1890 – 6 January 1946) was a British occultist, ceremonial magician, novelist and author. She was a co-founder of the Fraternity of the Inner Light, an occult organization that promoted philosophies which she claimed had been taught to her by spiritual entities known as the Ascended Masters. A prolific writer, she produced a large number of articles and books on her occult ideas and also authored seven novels, several of which expound occult themes.
Early life
Fortune was born in Llandudno, Caernarfonshire, North Wales, to a wealthy upper middle-class English family, although little is known of her early life. By her teenage years she was living in England's West Country, where she wrote two books of poetry. After time spent at a horticultural college she began studying psychology and psychoanalysis at the University of London before working as a counselor in a psychotherapy clinic. During the First World War she joined the Women's Land Army and established a company selling soy milk products. She became interested in esotericism through the teachings of the Theosophical Society, before joining an occult lodge led by Theodore Moriarty and then the Alpha et Omega occult organization.
Revelations
She came to believe that she was being contacted by the Ascended Masters, including "the Master Jesus Christ", and underwent trance mediumship to channel the Masters' messages. In 1922 Fortune and Charles Loveday claimed that during one of these ceremonies they were contacted by Masters who provided them with a text, The Cosmic Doctrine. Although she became the president of the Christian Mystic Lodge of the Theosophical Society, she believed the society to be uninterested in Christianity, and split from it to form the Community of the Inner Light, a group later renamed the Fraternity of the Inner Light. With Loveday she established bases in both Glastonbury and Bayswater, London, began issuing a magazine, gave public lectures, and promoted the growth of their society.
During the Second World War she organized a project of meditations and visualizations designed to protect Britain. She began planning for what she believed was a coming post-war Age of Aquarius, although she died of leukemia shortly after the war's end.
Legacy
Fortune is recognized as one of the most significant occultists and ceremonial magicians of the early 20th century. The Fraternity she founded survived her and in later decades spawned a variety of related groups based upon her teachings. Her novels in particular proved an influence on later occult and modern Pagan groups such as Wicca.