Shaman
Jump to navigation
Jump to search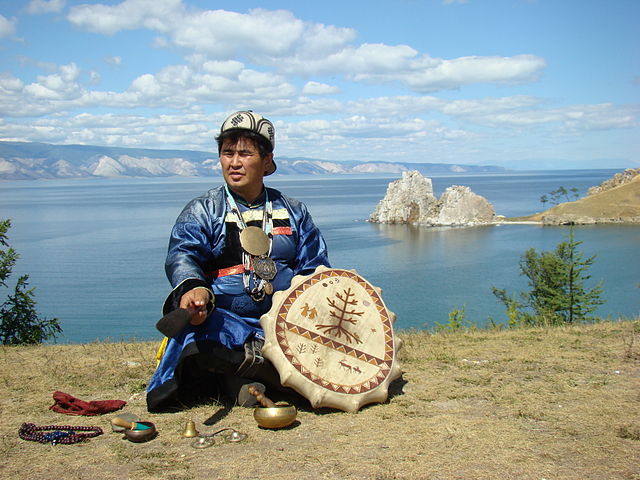 A shaman is a religious practitioner who interacts with the spirit world through altered states of consciousness, such as trance. The goal of this is usually to direct spirits or spiritual energies into the physical world for the purpose of healing, divination, or to aid human beings in some other way.
Beliefs and practices categorized as "shamanic" have attracted the interest of scholars from a variety of disciplines, including anthropologists, archaeologists, historians, religious studies scholars, philosophers and psychologists.
Definition
There is no single agreed-upon definition for the word "shaman" among anthropologists. Thomas Downson suggests three shared elements of shamanism: practitioners consistently alter consciousness, the community regards altering consciousness as an important ritual practice, and the knowledge about the practice is controlled.
The English historian Ronald Hutton noted that by the dawn of the 21st century, there were four separate definitions of the term which appeared to be in use:
The first of these uses the term to refer to "anybody who contacts a spirit world while in an altered state of consciousness."
The second definition limits the term to refer to those who contact a spirit world while in an altered state of consciousness at the behest of others.
The third definition attempts to distinguish shamans from other magico-religious specialists who are believed to contact spirits, such as "mediums", "witch doctors", "spiritual healers" or "prophets," by claiming that shamans undertake some particular technique not used by the others.
The fourth definition identified by Hutton uses "shamanism" to refer to the indigenous religions of Siberia and neighboring parts of Asia. According to the Golomt Center for Shamanic Studies, a Mongolian organisation of shamans, the Evenk word shaman would more accurately be translated as "priest"
Historic origins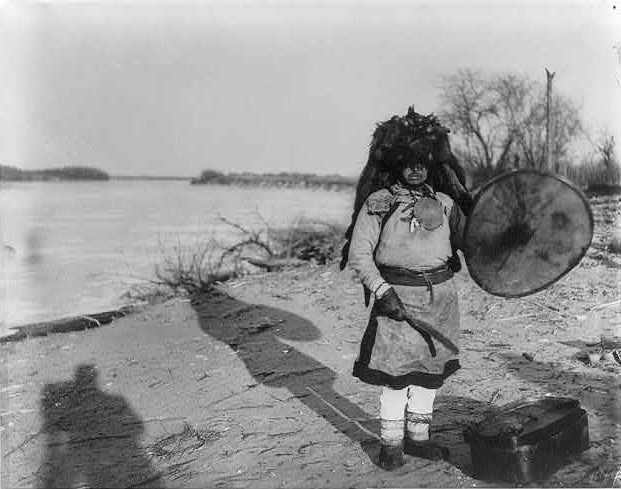 Shamanic practices may originate as early as the Paleolithic, predating all organized religions, and certainly as early as the Neolithic period. The earliest known undisputed burial of a shaman (and by extension the earliest undisputed evidence of shamans and shamanic practices) dates back to the early Upper Paleolithic era (c. 30,000 BP) in what is now the Czech Republic.
Sanskrit scholar and comparative mythologist Michael Witzel proposes that all of the world's mythologies, and also the concepts and practices of shamans, can be traced to the migrations of two prehistoric populations: the "Gondwana" type (of circa 65,000 years ago) and the "Laurasian" type (of circa 40,000 years ago).
Practice
Generally, shamans traverse the axis mundi and enter the "spirit world" by effecting a transition of consciousness, entering into an ecstatic trance, either autohypnotically or through the use of entheogens or ritual performances. The methods employed are diverse, and are often used together.
Drugs
An entheogen ("generating the divine within") is a psychoactive substance used in a religious, shamanic, or spiritual context. Entheogens have been used in a ritualized context, in a number of different cultures, possibly for thousands of years. Examples of substances used by some cultures as entheogens include: peyote, psilocybin and Amanita muscaria (fly agaric) mushrooms, uncured tobacco, cannabis, ayahuasca, and LSD.
Entheogens also have a substantial history of commodification, especially in the realm of spiritual tourism. For instance, countries such as Brazil and Peru have faced an influx of tourists since the psychedelic era beginning in the late 1960s, initiating what has been termed "ayahuasca tourism."
Music and songs
Just like shamanism itself, music and songs related to it in various cultures are diverse. In several instances, songs related to shamanism are intended to imitate natural sounds, via onomatopoeia.
Drumming circles are an extremely common element of shamanistic practice, with both the drummer and the dancers often lapsing into an ecstatic trance due to the rythmic thumping sounds.
The beating of the drum allows the shaman to achieve an altered state of consciousness or to travel on a journey between the physical and spiritual worlds. Much fascination surrounds the role that the acoustics of the drum play to the shaman. Shaman drums are generally constructed of an animal-skin stretched over a bent wooden hoop, with a handle across the hoop.
Modern shamans
In the 20th century, non-Indigenous Westerners involved in counter-cultural movements, such as hippies and the New Age created modern magico-religious practices influenced by their ideas of various Indigenous religions, creating what has been termed neoshamanism or the neoshamanic movement. It has affected the development of many neopagan practices, as well as faced a backlash and accusations of cultural appropriation, exploitation and misrepresentation when outside observers have tried to practice the ceremonies of, or represent, cultures to which they do not belong.
Native Americans in the United States do not call their traditional spiritual ways "shamanism". However, according to Richard L. Allen, research and policy analyst for the Cherokee Nation, they are regularly overwhelmed with inquiries by and about fraudulent shamans, aka ("plastic medicine people"). He adds, "One may assume that anyone claiming to be a Cherokee 'shaman, spiritual healer, or pipe-carrier', is equivalent to a modern day medicine show and snake-oil vendor."