Paganism
Jump to navigation
Jump to search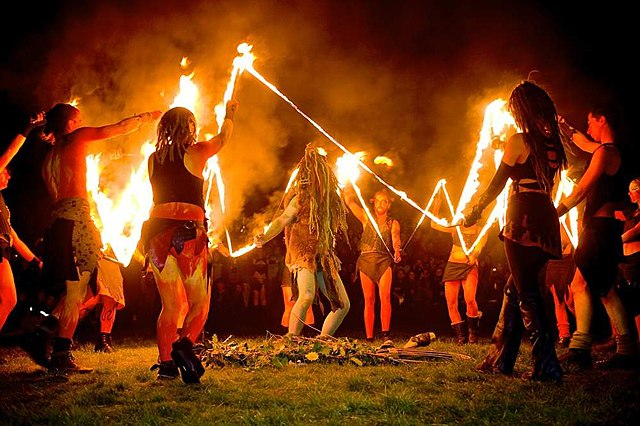 Paganism (from classical Latin pāgānus "rural", "rustic", later "civilian") is a term first used in the fourth century by early Christians for people in the Roman Empire who practiced polytheism or ethnic religions other than Judaism. In the time of the Roman empire, individuals fell into the pagan class either because they were increasingly rural and provincial relative to the Christian population, or because they were not milites Christi (soldiers of Christ).
Alternative terms in Christian texts were hellene, gentile, and heathen. Ritual sacrifice was an integral part of ancient Graeco-Roman religion and was regarded as an indication of whether a person was pagan or Christian. Paganism has broadly connoted the "religion of the peasantry."
Definition
Defining paganism is complex and problematic. Understanding the context of its associated terminology is important. Early Christians referred to the diverse array of cults around them as a single group for reasons of convenience and rhetoric. While paganism generally implies polytheism, the primary distinction between classical pagans and Christians was not one of monotheism versus polytheism, as not all pagans were strictly polytheist. Throughout history, many of them believed in a supreme deity. However, most such pagans believed in a class of subordinate gods/daimons or divine emanations. To Christians, the most important distinction was whether or not someone worshipped the one true God. Those who did not (polytheist, monotheist, or atheist) were outsiders to the Church and thus considered pagan.
History
During and after the Middle Ages, the term paganism was applied to any non-Christian religion, and the term presumed a belief in false god(s). The origin of the application of the term pagan to polytheism is debated.
In the 19th century, paganism was adopted as a self-descriptor by members of various artistic groups inspired by the ancient world. In the 20th century, it came to be applied as a self-descriptor by practitioners of Modern Paganism, Neopagan movements and Polytheistic reconstructionists. Modern pagan traditions often incorporate beliefs or practices, such as nature worship, that are different from those in the largest world religions.
Contemporary knowledge of old pagan religions and beliefs comes from several sources, including anthropological field research records, the evidence of archaeological artifacts, and the historical accounts of ancient writers regarding cultures known to Classical antiquity. Most modern pagan religions existing today express a worldview that is pantheistic, panentheistic, polytheistic or animistic, but some are monotheistic.
Neo-Paganism
The overarching contemporary pagan revival movement which focuses on nature-revering/living, pre-Christian religions and/or other nature-based spiritual paths, and frequently incorporating contemporary liberal values. This definition may include groups such as Wicca, Neo-Druidism, Heathenry, and Slavic Native Faith. Influences include: Spiritualism, and the many Afro-Diasporic faiths like Haitian Vodou, Santería and Espiritu religion.