Martyr
Jump to navigation
Jump to search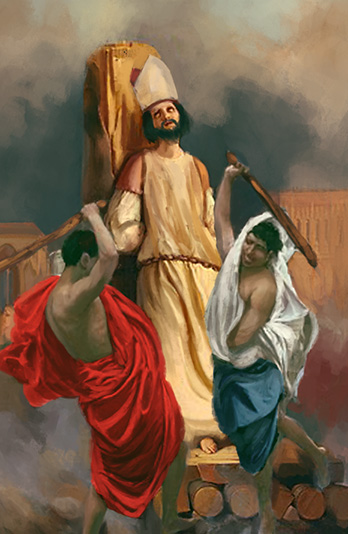 A martyr (Greek: μάρτυς, mártys, "witness", or μαρτυρία) is someone that suffers persecution and death for advocating, renouncing, or refusing to renounce or advocate, a religious belief or other cause as demanded by an external party. In the martyrdom narrative of the remembering community, this refusal to comply with the presented demands results in the punishment or execution of an actor by an alleged oppressor. Accordingly, the status of the 'martyr' can be considered a posthumous title as a reward for those who are considered worthy of the concept of martyrdom by the living, regardless of any attempts by the deceased to control how they will be remembered in advance.
Most martyrs are considered holy or are respected by their followers, becoming symbols of exceptional leadership and heroism in the face of difficult circumstances. Martyrs play significant roles in religions. Similarly, martyrs have had notable effects in secular life, including such figures as Socrates, among other political and cultural examples.
Meaning
In its original meaning, the word martyr, meaning witness, was used in the secular sphere as well as in the New Testament of the Bible. The process of bearing witness was not intended to lead to the death of the witness, although it is known from ancient writers (e.g. Josephus) and from the New Testament that witnesses often died for their testimonies.
During the early Christian centuries, the term acquired the extended meaning of believers who are called to witness for their religious belief, and on account of this witness, endure suffering or death. The term, in this later sense, entered the English language as a loanword. The death of a martyr or the value attributed to it is called martyrdom. The early Christians who first began to use the term martyr in its new sense saw Jesus Christ as the first and greatest martyr, on account of his crucifixion.
The term "revolutionary martyr" usually relates to those dying in revolutionary struggle. During the 20th century, the concept was developed in particular in the culture and propaganda of communist or socialist revolutions, although it was and is also used in relation to nationalist revolutions.
Notable Martyrs