Heresy
Jump to navigation
Jump to search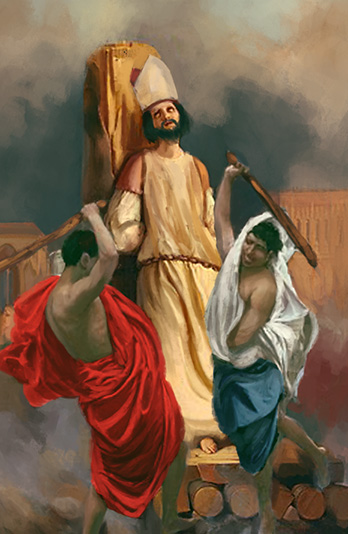 Heresy is any belief or theory that is strongly at variance with established beliefs or customs, in particular the accepted beliefs of a church or religious organization. The term is usually used in reference to violations of important religious teachings, but is also used of views strongly opposed to any generally accepted ideas. A heretic is a proponent of heresy.
The term is used particularly in reference to Christianity, Judaism, and Islam. In certain historical Christian, Muslim, and Jewish cultures, among others, espousing ideas deemed heretical has been (and in some cases still is) met with censure ranging from excommunication to the death penalty.
Heresy is distinct from apostasy, which is the explicit renunciation of one's religion, principles or cause; and from blasphemy, which is an impious utterance or action concerning God or sacred things.
Etymology
Derived from Ancient Greek haíresis (αἵρεσις), the English heresy originally meant "choice" or "thing chosen". However, it came to mean the "party, or school, of a man's choice", and also referred to that process whereby a young person would examine various philosophies to determine how to live.
The word heresy is usually used within a Christian, Jewish, or Islamic context, and implies slightly different meanings in each. The founder or leader of a heretical movement is called a heresiarch, while individuals who espouse heresy or commit heresy are known as heretics.
Use in Christianity
The use of the word heresy was given wide currency by Irenaeus in his 2nd-century tract Contra Haereses (Against Heresies) to describe and discredit his opponents during the early centuries of the Christian community. He described the community's beliefs and doctrines as orthodox (from ὀρθός, orthos, "straight" or "correct" + δόξα, doxa, "belief") and the Gnostics' teachings as heretical. He also pointed out the concept of apostolic succession to support his arguments.
Constantine the Great, who along with Licinius had decreed toleration of Christianity in the Roman Empire by what is commonly called the "Edict of Milan", and was the first Roman Emperor baptized, set precedents for later policy. The first known usage of the term in a legal context was in AD 380 by the Edict of Thessalonica of Theodosius I, which made Christianity the state church of the Roman Empire. Prior to the issuance of this edict, the Church had no state-sponsored support for any particular legal mechanism to counter what it perceived as "heresy." This reinforcement of the Church's authority gave church leaders the power to, in effect, pronounce the death sentence upon those whom the church considered heretical.
The Cathar Crusade was initiated by the Catholic Church to eliminate the Cathar heresy in Languedoc. Galileo Galilei was brought before the Inquisition for heresy, but abjured his views and was sentenced to house arrest, under which he spent the rest of his life. Galileo was found "vehemently suspect of heresy," namely of having held the opinions that the Sun lies motionless at the centre of the universe, and that the Earth is not at its centre and moves, and that one may hold and defend an opinion as probable after it has been declared contrary to Holy Scripture.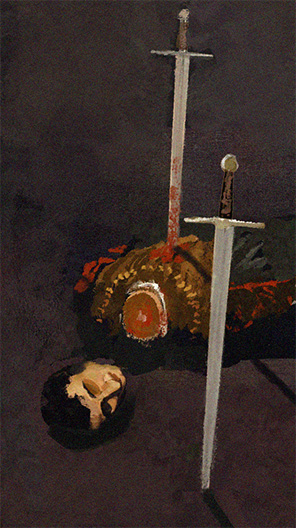 In Britain, the 16th-century English Reformation resulted in a number of executions on charges of heresy. During the thirty-eight years of Henry VIII's reign, about sixty heretics, mainly Protestants, were executed and a rather greater number of Catholics lost their lives on grounds of political offences such as treason, notably Sir Thomas More and Cardinal John Fisher, for refusing to accept the king's supremacy over the Church in England. Under Edward VI, the heresy laws were repealed in 1547 only to be reintroduced in 1554 by Queen Mary I.
The number of people executed as heretics under the authority of the various "ecclesiastical authorities" is not known.
Use in Islam
In some modern day nations and regions, heresy remains an offense punishable by death. One example is the 1989 fatwa issued by the government of Iran, offering a substantial bounty for anyone who succeeds in the assassination of author Salman Rushdie, whose writings were declared as heretical. Moreover, the Bahá'í Faith is considered an Islamic heresy in Iran, with systematic persecution of Bahá'ís.
Use in Judaism
Orthodox Judaism considers views on the part of Jews who depart from traditional Jewish principles of faith heretical. In addition, the more right-wing groups within Orthodox Judaism hold that all Jews who reject the simple meaning of Maimonides's 13 principles of Jewish faith are heretics. As such, most of Orthodox Judaism considers Reform and Reconstructionist Judaism heretical movements, and regards most of Conservative Judaism as heretical. The liberal wing of Modern Orthodoxy is more tolerant of Conservative Judaism, particularly its right wing, as there is some theological and practical overlap between these groups.
Other religions
The act of using Church of Scientology techniques in a form different than originally described by L. Ron Hubbard is referred to within Scientology as "squirreling" and is said by Scientologists to be high treason. The Religious Technology Center has prosecuted breakaway groups who have practiced Scientology outside the official Church without authorization.
Although Zoroastrianism has had an historical tolerance for other religions, it also held sects like Zurvanism and Mazdakism heretical to its main dogma and has violently persecuted them, such as burying Mazdakians with their feet upright as "human gardens." In later periods Zoroastrians cooperated with Muslims to kill other Zoroastrians deemed heretical.