The Tarot of Vlad Dracula
Jump to navigation
Jump to search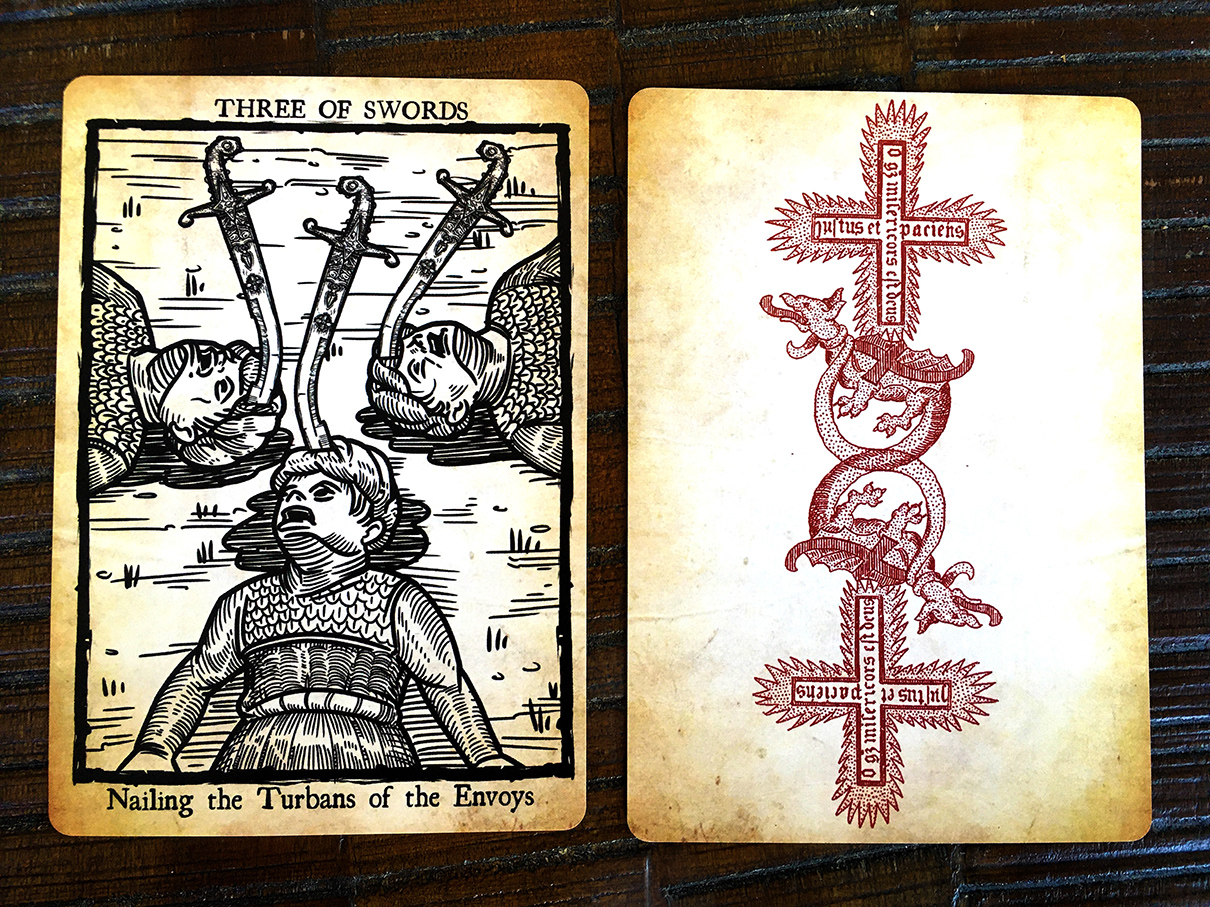 The Tarot of Vlad Dracula is a 78 card Tarot deck created by occultist and author Travis McHenry. It is a carefully researched biographical account of the life of Vlad the Impaler. The deck was later colorized and released as the Vlad Dracula Tarot.
Development
Development on the deck began in early 2019, after McHenry re-read In Search of Dracula, a biography about Vlad the Impaler that he had first read as a teenager. Using this book as his primary text, he began charting out names and meanings for an entire deck of Tarot cards featuring people, places, and events that were significant to Vlad the Impaler.
The author visited Romania the following June to conduct more research at the locations frequented by Vlad during his lifetime. Some of the places McHenry visited include Snagov Monastery, Poenari Castle, Targoviste Palace, and Tampa Hill. He spent several days in the walled Transylvanian city of Sighișoara, where Vlad was born.
Content
The Tarot of Vlad Dracula consists of original artwork done in the style of 15th century woodcuts by Russian artist Nikita Vuimin. Unlike the successor deck, these images are uncolored, presented as black line drawings against a background that resembles distressed paper.
Each card contains the name of the Tarot card as well as a brief explanation of the event or person it is depicting.
Publication
The deck was originally published in March 2020 by Bloodstone Studios. It launched as part of a successful Kickstarter campaign that raised over $50,000.
After the original edition sold out, the deck was licensed by Rockpool Publishing for reprinting in a new mass market edition, re-titled as the Vlad Dracula Tarot. Travis McHenry personally colorized the entire deck for this new edition.
External links