Knight of Cups
Jump to navigation
Jump to search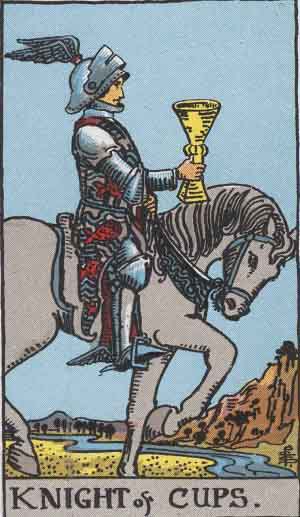 The Knight of Cups is the twelfth card in the suit of Cups. It usually stands for an arrival or approach of a friend or messenger. Advances, proposition, invitation, and incitement.
General description
In the Rider-Waite Tarot deck, Pamela Colman Smith depicts the Knight of Cups as a graceful, but not warlike, knight who is riding quietly, wearing a winged helmet, referring to those higher graces of the imagination which sometimes characterize this card. He too is a dreamer, but the images of the side of sense haunt him in his vision.
Divinatory meaning
Though the cups never go to anything like hatred or crime or real malice, their weakness is in being unreliable or incalculable with regard to things of the exact world or matter. So in the worst cases this card may indicate everything connected with swindling from sheer mental instability. But it may also be, that the term swindler is wrongly given to people who are standing apart from the common herd and are more or less occultists.
There may be certainly a considerable degree of falsehood expressed by this card: false interpretation, misjudgment, or fantastic narratives. On account of the eighth house all this may be connected with sex-questions or intimate and private affairs. The card may express indiscretion committed and slanderous reports, secretly promulgated. It has to do with secrets and the divulgation of secrets. But there may be also a higher sway in the emotional realm: devotion, sacrifice, and charity.
There is much occultism in this card; this Knight may be unknown or anonymous but a very important messenger (to the soul?). At its best he is Saint George, killing the dragon, the Rosicrucian brother.
If reversed, the card can mean: Trickery, subtlety, swindling, duplicity, and fraud.