Kabbalistic angel
Jump to navigation
Jump to search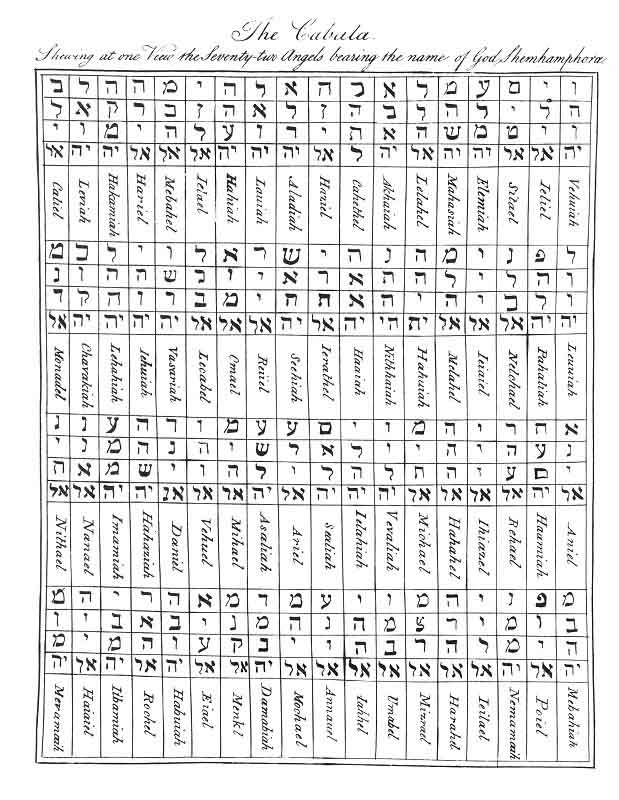 The Kabbalistic angels, also known as the Angels of the Shem HaMephorash, are 72 celestial spirits whose names are derived from the 72-fold name of the Hebrew god as found in the Book of Exodus.
They are closely connected to the 72 Goetic demons, which they rule over.
Overview
It is an old kabbalistic doctrine that all the universe is permeated with the virtues and power of the Divine Names, which represent the various attributes of the Infinite Being. These Names are like openings in the abyss, through which we attain an uplifting of our limited faculties.
The supreme expansion of the Divine Name is called Shem HaMephorash, being the word expounded in its fullness. The names of the 72 Angels of the Kabbalah connect with the power of the Divine Name as their names are devised from His through a series of mathematical and alphabetical permutations exercised by the ancient kabbalists.
The 72 names
All the letters comprising the 72-fold name (and thus the names of the 72 Angels) are derived from the Book of Exodus, chapter 14, verses 19 - 21. Each of the three verses contains exactly 72 letters, and when one letter is taken from each verse in the kabbalistic pattern, they form 72 three-letter names that are unique to each Angel. The verses tell the story of the Angel of God, who protected the fleeing Israelites from the army of the Pharaoh. It was Moses who spoke the 72-fold name aloud and caused God to part the Red Sea.
Exodus verse
Exodus 14 19 And the angel of God, which went before the camp of Israel, removed and went behind them; and the pillar of the cloud went from before their face, and stood behind them:

20 And it came between the camp of the Egyptians and the camp of Israel; and it was a cloud and darkness to them, but it gave light by night to these: so that the one came not near the other all the night.

21 And Moses stretched out his hand over the sea; and the Lord caused the sea to go back by a strong east wind all that night, and made the sea dry land, and the waters were divided.
Creating the 72 names
Take the three verses beginning vayisa, vayabo, and vayet, and write them out one by one in a vertical column from right to left such that the letters of each word follow in one from another from top to bottom. Then take the first letter of the first verse, which is called Vav (V); next working the other way take the last letter of the second verse, hay (H) and lastly go to the beginning of the third verse which you will find is Vav again.
When you link up these three letters in this order the first angel's mnemonic V-H-V is obtained, the second angel is Y-H-Y, and the third is S-Y-T.
The 72 Kabbalistic angels
External link