Five of Pentacles
Jump to navigation
Jump to search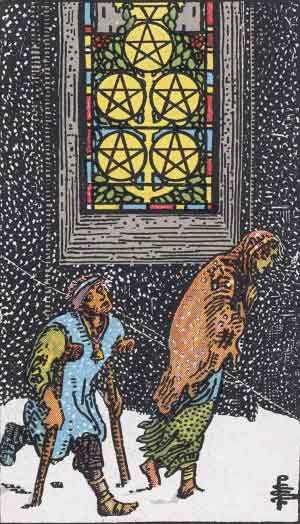 The Five of Pentacles is the fifth card in the suit of Pentacles. It usually stands for material trouble, destitution or otherwise. It can also indicate love and lovers: wife, husband, friend, mistress. Conquest of fortune by reason.
General description
In the Rider-Waite Tarot deck, Pamela Coleman Smith depicts the Five of Pentacles as an underprivileged man and a woman walking on a snowy street during a blizzard. The man is hobbling on crutches and has been injured on his head. The woman has her shawl wrapped tightly around her for warmth and is folding her hands in prayer, or possibly simply to keep warm. Above them, five pentacles are set into a stained glass window of a church, but the building is otherwise cold and gray.
Divinatory meaning
A.E. Waite considered the Five of Pentacles to be the emanation of love, saying it brings the lover and the mistress (husband and wife, when regularized by law) and friends (when between persons of the same sex) sympathy and popularity, enthusiasm, hopefulness, love of traveling, roaming about, which in weaker cases easily leads to Bohemian habits, carelessness, disorder and so on. The expansive nature indicated by this card causes material troubles above all, is evident, because it means that more is given out than received, which in matters of this material world does in fact bring troubles. But of a sort that may be easily forgiven, and helped, if not carried too far.
If reversed, the card can mean: disorder, chaos, ruin, discord, profligacy. Troubles in love.