Nine of Pentacles
Jump to navigation
Jump to search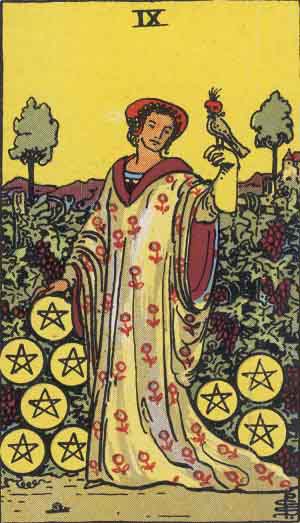 The Nine of Pentacles is the ninth card in the suit of Pentacles. It usually stands for prudence, safety, success, accomplishment, and discernment.
General description
In the Rider-Waite Tarot deck, Pamela Coleman Smith depicts the Nine of Pentacles as a woman with a bird upon her wrist, standing amidst a great abundance of grapevines in the garden of a manorial house. It is a wide domain, suggesting plenty in all things. Possibly it is her own possession and testifies to material well-being.
Divinatory meaning
This card has a very positive in its meaning and effect. There may be some conceit and self-satisfaction, but not without goodness of heart. The person indicated by this card must be a good sportsman and honest above all. The force in it does not tolerate contradiction nor delay, does not reason, but acts at once.
If reversed, the card can mean: Roguery, deception, a project that has been voided. Vain hopes.