The Moon
Jump to navigation
Jump to search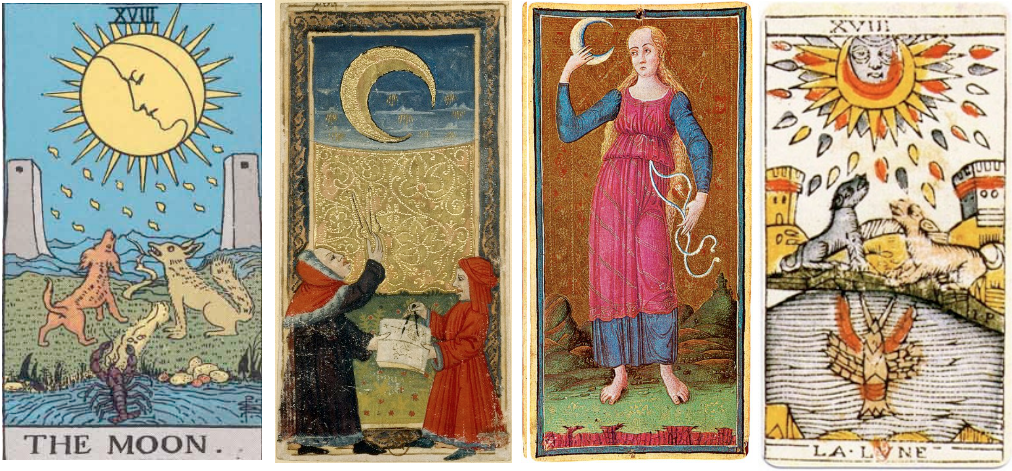 The Moon is the 18th card in the Major Arcana in most traditional Tarot decks.
Rider-Waite Depiction
In the Rider-Waite Tarot, artist Pamela Colman Smith depicted The Moon as a meadow feebly lighted by the moon. The meadow is bounded by a tower on each side. Drops of blood are falling from the moon. The drops of blood represent the descent of the Spirit into Matter. A path sprinkled with drops of blood loses itself in the horizon. In the centre of the field a dog and a wolf axe howling at the moon, a crayfish is climbing out of the water between the two animals.
Symbolism
This card represents life of the imagination apart from life of the spirit. The path between the towers is our foray into the unknown. The dog and wolf are the fears of the natural mind in the presence of that place of exit, when there is only reflected light to guide it. Servile spirits (the dog), savage souls (the wolf), and crawling creatures (the crayfish) are all present to watch the fall of the soul, hoping to aid in its destruction. And it may happen to us, that a lower current of the Moon brings our way people who have no higher aim than to aid in our destruction even if we ourselves have no intention whatever of falling.
Divinatory meaning
In divination, this card usually indicates hidden enemies, danger, uncertainty, darkness, terror, deception, and errors. It can also stand for dreams, exhibitions, games, and unhelpful people.
In reversed position, it means: Instability, inconstancy, and silence. Lesser degrees of deception and error.