The Empress
Jump to navigation
Jump to search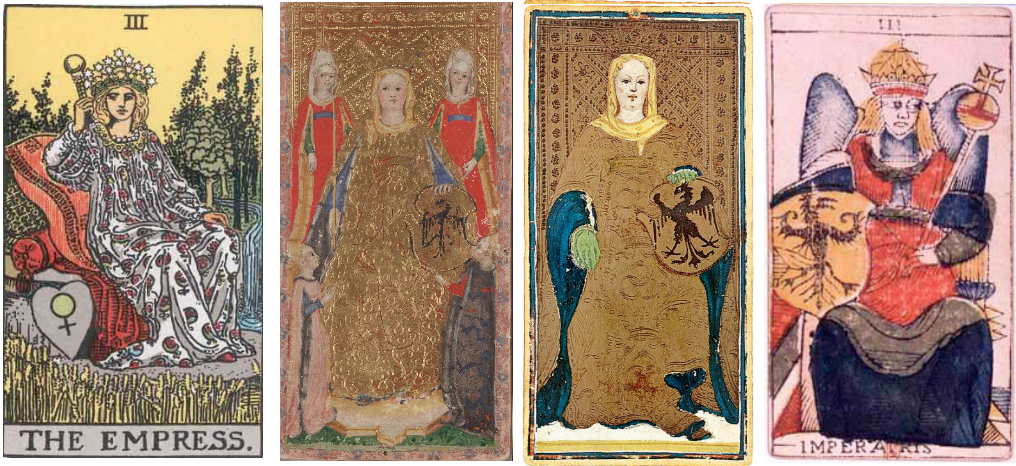 The Empress is the third card in the Major Arcana in most traditional Tarot decks.
Depiction
In virtually all Tarot decks pre-dating the Rider-Waite Tarot, The Empress is depicted as a woman upon on a throne wearing a crown with twelve stars, holding a scepter in one hand. The scepter is representative of her power over life, her crown has twelve stars representing her dominance over the year, and her throne is in the midst of a field of grain, representative of her dominion over growing things. The Empress is representative of the productivity of the subconscious, seeded by ideas. She is meant to be the embodiment of the growth of the natural world, fertility, and what one knows or believes from the heart.
Alternate names
In the Hieronymus Bosch Tarot by Travis McHenry, this card is called The Virgin Mother, and uses Hieronymus Bosch's painting of the same name showing the Virgin Mary holding baby Jesus inside a walled castle.
Divinatory meaning
In divination, this card usually indicates fertility, initiative, and fruitfulness.
In reversed position, it means: Truth, light, the unravelling of involved matters.