King of Swords
Jump to navigation
Jump to search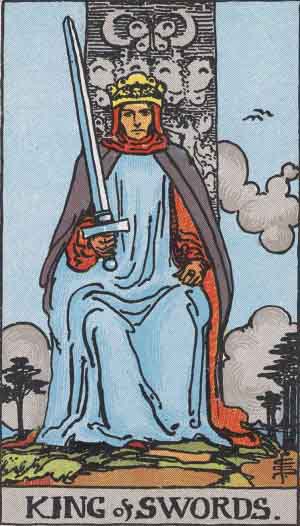 The King of Swords is the fourteenth card in the suit of Swords. It usually stands for judgment, law, and all its connexions. Power, command, authority, militant intelligence, offices of the crown. A lawyer, senator, or doctor.
General description
In the Rider-Waite Tarot deck, Pamela Colman Smith depicts the King of Swords as a king sitting in judgment, holding the unsheathed sign of his suit. He recalls, of course, the conventional symbol of Justice in the Major Arcana, and he may represent this virtue, but he is rather the power of life and death, in virtue of his office.
Divinatory meaning
The king of the Martian element naturally is the king of matter and of war. Also, he who wins war and conducts the battle of earthy interests. It denotes the dominion and rulership of this element, consequently the military chief.
As the ruler of the ascendant, the card may certainly mean any person heading a cycle of material activity and before all a pioneer on this plane, an independent man living on his own means. It indicates material certainty and severity, whether beneficial or malefic from a personal point of view, healthy or rude, even cruel. But we fail to see what it has to do with perversity, unless the meaning be the overruling of everything else, the higher by the material power, and the misuse of the latter.
The card means an emphatic YES.
If reversed, the card can mean: Cruelty, perversity, and evil intention.