Knight of Pentacles
Jump to navigation
Jump to search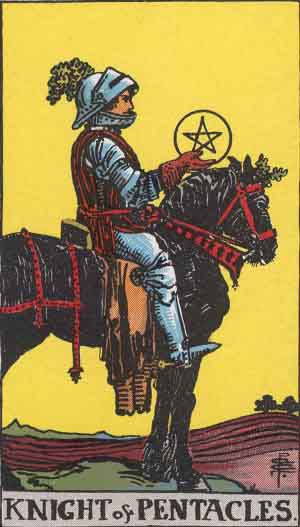 The Knight of Pentacles is the twelfth card in the suit of Pentacles. It usually stands for utility, serviceableness, and responsibility. If indicating a person, this card will suggest a useful man.
General description
In the Rider-Waite Tarot deck, Pamela Coleman Smith depicts the Knight of Pentacles as a Knight riding a slow, enduring, heavy horse, to which his own aspect corresponds. He is holding a pentacle, but looks beyond it, at the path ahead.
Divinatory meaning
The Knight of Pentacles may indicate profit by legacies or inheritance.
Knights in the Tarot are often a personification, and he will be a person who is obliging, carrying out a will, coming to the aid of the querent, secretly or confidentially perhaps, saving him from material and financial troubles. It may be a loan, inheritance or advance, but without any hard conditions connected with it, so it may be a present. On the other hand, it means the tendency to enjoy the good things of the heart within one's own private or family circle. In weak cases there may be some danger of degeneration into idleness or indolence. In connection with the fourth house, ruling family matters and the past, the home and the storehouse.
The card has to do with pleasant memories, recollections, people we have known before; collections and collecting.
If reversed, the card can mean: Inertia and idleness. Discouragement and carelessness. A brave man who is nevertheless unemployed.