The Lovers
Jump to navigation
Jump to search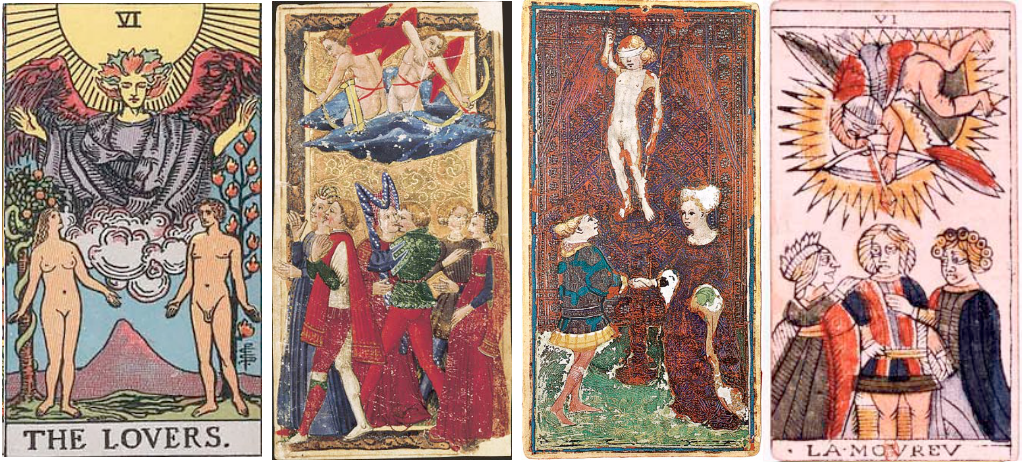 The Lovers is the sixth card in the Major Arcana in most traditional Tarot decks.
The Lovers is associated with the star sign Gemini, and indeed is also known as The Twins in some decks. Other associations are with air, Mercury, and the Hebrew letter ז (Zayin).
Depiction
In the Rider-Waite Tarot deck, the imagery for this card is changed significantly from the traditional depiction. Instead of a couple receiving a blessing from a noble or cleric, the Rider–Waite deck depicts Adam and Eve in the Garden of Eden. By reducing the number of people depicted in the card from three to two, Waite was able to reinforce its correspondence with Gemini. The Rider–Waite card also includes the Tree of the knowledge of good and evil with a serpent wrapped around its trunk. The symbolism of no return from making bad decisions, and the consequences of innocence lost, would be more widely understood from this imagery.
Divinatory meaning
In divination, this card usually indicates attraction, love, beauty, and relationships.
In reversed position, it means: Failure and foolish plans. A frustrated marriage.