The World
Jump to navigation
Jump to search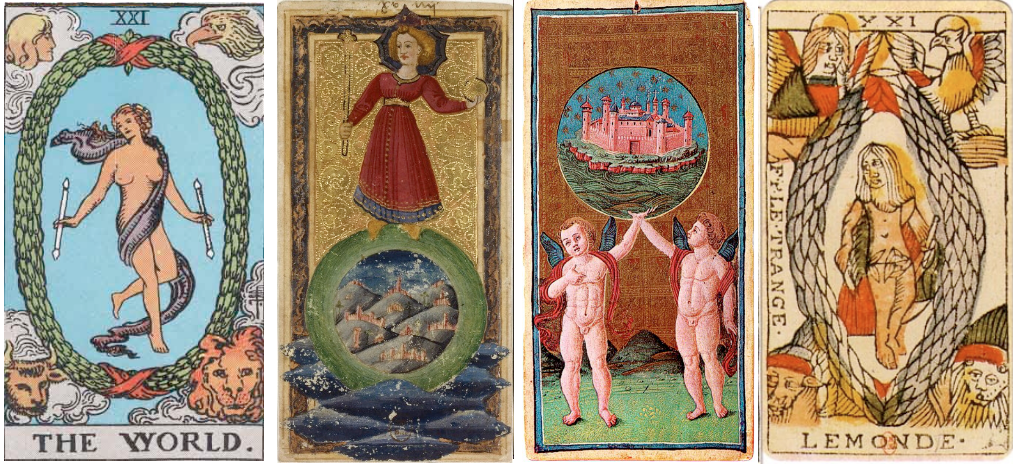 The World is the 21st card in the Major Arcana in most traditional Tarot decks.
Rider-Waite Depiction
At the four angles of the card are the four animals of the Apocalypse: the Sphinx: the Man, the Lion, the Bull, and the Eagle grouped about an elliptic garland, as if it were a chain of flowers intended to symbolize all sensible things. The garland is a symbol of humanity and the eternal reward of a life that has been spent well.
Within the garland is the figure of a woman. She holds her legs in the same cross as The Hanged Man, and carries a wand in both hands. It is eloquent as an image of the swirl of the sensitive life, of joy attained in the body, of the soul's intoxication in the earthly paradise, but still guarded by the Divine Watchers, as if by the powers and the graces of the Holy Name, Tetragammaton, JVHV—those four ineffable letters which are sometimes attributed to the mystical beasts. The symbols of the four fixed signs are presented at the corners of the cards, and where these fixed signs are seen as the foundation stones of our physical world.
Symbolism
This final message of the Major Arcana represents the perfection and end of the Cosmos, the secret which is within it, the rapture of the universe when it understands itself in God. It is further the state of the soul in the consciousness of Divine Vision, reflected from the self-knowing spirit. It has more than one message on the macrocosmic side and is, for example, the state of the restored world when the law of manifestation shall have been carried to the highest degree of natural perfection. But it is perhaps more especially a story of the past, referring to that day when all was declared to be good, when the morning stars sang together and all the Sons of God shouted for joy.
Divinatory meaning
In divination, this card usually indicates assured success, recompense, a voyage, or a change of place. The best of everything.
In reversed position, it means: Inertia, fixity, stagnation, or permanence.