Seven of Wands
Jump to navigation
Jump to search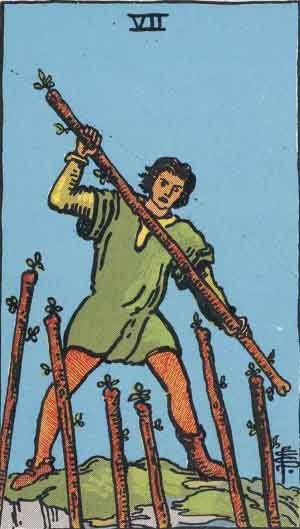 The Seven of Wands is the seventh card in the suit of Wands. It usually stands for valor and success. Intellectual discussion or wordy strife. Negotiations, war of trade, barter, and competition.
General description
In the Rider-Waite Tarot deck, Pamela Coleman Smith depicts the Seven of Wands as a young man on a craggy eminence brandishing a staff; six other staves are raised towards him from below.
It is a card of valor, for six are attacking one, who has the vantage position. It is further a card of success, for the combatant is on the top and his enemies may be unable to reach him.
Divinatory meaning
Although this card indicates conflict, it will be one that is likely to have an advantageous outcome. In the moment of the battle, it may seem like you will lose, but, like the figure on the card, you are in a position of advantage and will press the victory.
If reversed, the card can mean: Perplexity, embarrassments, and anxiety. It is also a caution against indecision.