Knight of Wands
Jump to navigation
Jump to search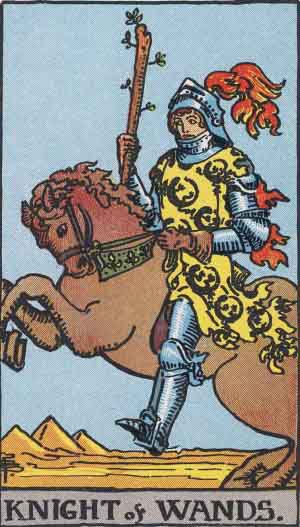 The Knight of Wands is the twelfth card in the suit of Wands. It usually stands for departure or a change of residence. It can indicate a dark man.
General description
In the Rider-Waite Tarot deck, Pamela Colman Smith depicts the Knight of Wands as a knight upon a journey, armed with a short wand, and although mailed is not on a warlike errand. He is passing mounds or pyramids. The motion of the horse is a key to the character of its rider, and suggests the precipitate mood, or things connected therewith.
Divinatory meaning
In the case of the fourth house, the knight relates to family matters or household conditions, eventually the father, to internal conditions in society or groups of people. It must further relate to memories and the past in general, because it means the awakening of the sentiments. The traditional conclusions have been drawn evidently in the negative for the greater part, in consideration of the fact that the sentiments generally are misleading. That they give reason for many changes is quite true. In the case of the twelfth house this is much the same. But extending its result over a much larger circle, the mercurial knight may represent expedition and exploration, discovery, scientific or practical, emigration, estrangement, and the great work of transmigration. It denotes a searching for the unknown, which in weak personal cases may appear as indiscretion or premature revelation, divulgation, profanation.
On account of the twelfth house there is something inimical about him, and a certain dissension of sentiment may find its cause in the past, in a family feud or something in the nature of a misleading prejudice, tradition, which will have to be given up. A representative of the father, a relative. A man of doubtful though not necessarily bad character. An investigator, occultist, explorer, sailor, wanderer, a guide through strange experiences, vagrant Bohemian type. Disturbing influences and people in general.
If reversed, the card can mean: Rupture, division, interruption, and discord.