Four of Swords
Jump to navigation
Jump to search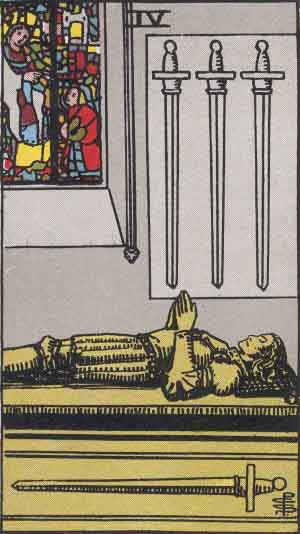 The Four of Swords is the fourth card in the suit of Swords. It usually stands for vigilance, retreat, and solitude. A hermit's repose or even exile.
General description
In the Rider-Waite Tarot deck, Pamela Colman Smith depicts the Four of Swords as the effigy of a knight in the attitude of prayer, at full length upon his tomb.
Divinatory meaning
This card has been said to stand for economy, savings, even avarice and household affairs as well as for many things in connection with the end of life, since the fourth house in the horoscope relates to the end of life, and to the inner side of life as long as this lasts.
If this card should relate to business, it certainly does not mean that anything like accord has been or will be reached, but that one of the parties retires or takes his proposals back. It may also relate to the condition of the soul, in which one harvests the results of material life in the world, whether spiritually, by meditation, or materially, by economy.
In any case it points to a stillness and heavy condition of the mind. Further, to the tendency of collecting, gathering.
If reversed, the card can mean: Wise administration, circumspection, economy, greed, and precautions.