Three of Cups
Jump to navigation
Jump to search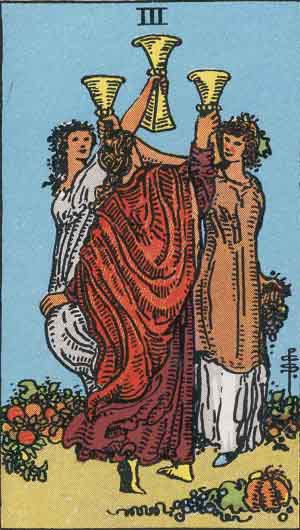 The Three of Cups is the third card in the suit of Cups. It usually stands for the conclusion of any matter in plenty, perfection and merriment; happy issue, victory, fulfillment, solace, and healing. Unexpected advancement.
General description
In the Rider-Waite Tarot deck, Pamela Colman Smith depicts the Three of Cups as three maidens in a garden-ground with cups uplifted, as if pledging one another in friendship or success. There is no feeling whatever of being hampered or thwarted, or depressed. All goes well and the general sensation is cheerful.
Divinatory meaning
It is the sign of a good time, good luck and general satisfaction. As the eleventh house also rules the blood, it is very favorable for health and eventual recuperation. Moreover this house has to do with commerce and business, and the card favors them beyond a doubt, giving a good understanding of opportunity and of the character and wishes of those with whom we have to do, so that we can supply what they ask.
If reversed, the card can mean: End of business. It signifies also the side of excess in physical enjoyment, and the pleasures of the senses.