Two of Cups
Jump to navigation
Jump to search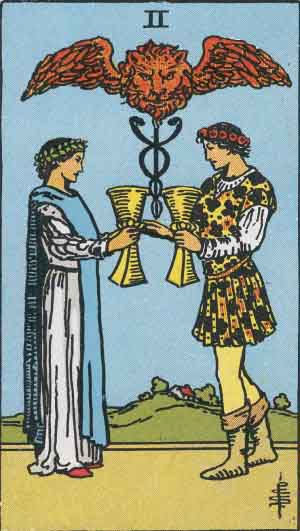 The Two of Cups is the second card in the suit of Cups. It usually stands for love, passion, friendship, affinity, sympathy, and the interrelation of the sexes.
General description
In the Rider-Waite Tarot deck, Pamela Colman Smith depicts the Two of Cups as a youth and maiden are pledging their love for one another. Above their cups rises the Caduceus of Hermes, between the great wings of which there appears a lion's head. It is a variant of a sign which is found in a few old examples of this card.
Divinatory meaning
Two souls find each other here in an act, which of course must be that of meeting in the body. Soul-union, ending in bodily attraction. So the traditional rendering appears once more to be fairly correct. It is the outcome of idealism, indicated by the ace, shared by two souls. It is anyhow not the sex-element as a curse, but as a blessing in practical life. The card may further denote any sort of friendly act and sympathetic encounter. We should say, as regards love, it is to be rather defined as love-making, courting.
If reversed, the card can mean: Passion, lust, and desire.