Ten of Cups
Jump to navigation
Jump to search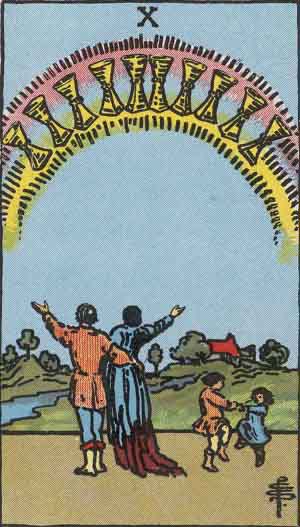 The Ten of Cups is the tenth card in the suit of Cups. It usually stands for contentment and repose of the entire heart. Perfect human love and friendship.
General description
In the Rider-Waite Tarot deck, Pamela Colman Smith depicts the Ten of Cups as ten cups appearing in a rainbow in the sky. Watching in joy are a husband and wife. His right arm is around her and their two children are dancing nearby. The homestead is beyond, nestled in the trees beside a flowing brook.
Divinatory meaning
The Ten of Cups may be called, with truth, the indication of 'the city of God' which, by analogy, becomes the physical body, as well as one's residence or native land. It means physical possession or ownership. Consequently it has to do with the agreeable sensation of being at home and at ease, having possession of what is wanted. It must also mean being fully acquainted with one's work. Good health and wise living.
If reversed, the card can mean: A serious argument, indignation, violence.