Four of Wands
Jump to navigation
Jump to search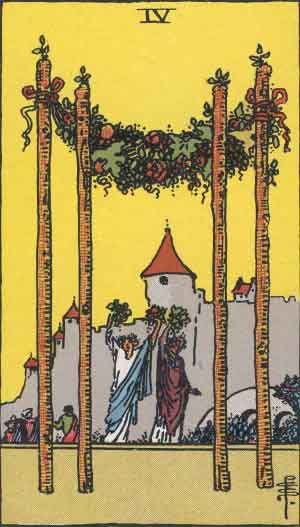 The Four of Wands is the fourth card in the suit of Wands. It usually stands for country life, haven of refuge, a family, concord, harmony, prosperity, peace, and the perfected work of these. Unexpected good fortune.
General description
In the Rider-Waite Tarot deck, Pamela Coleman Smith depicts the Four of Wands as four wands planted in the foreground and from these, a great garland is suspended; two female figures uplift nosegays; at their side is a bridge over a moat, leading to an old manorial house.
Divinatory meaning
The Four of Wands has a strong connection to the home life and to family or friends, those people who are close to you. If found in a reading, it may indicate there is an issue in the home or with a housing situation. It can also simply point out that your family is a refuge where you may find comfort from outside problems.
Mercury brooding over the house of the family and the moon, engenders homely feelings, memories, thoughts of internal service, household matters, and tends more or less to a profane and familiar or descriptive language, to joke, fun and the theatrical art, to inviting people to come together and have their share in weal and woe.
If reversed, the card can mean: A difficult home situation.