Eight of Wands
Jump to navigation
Jump to search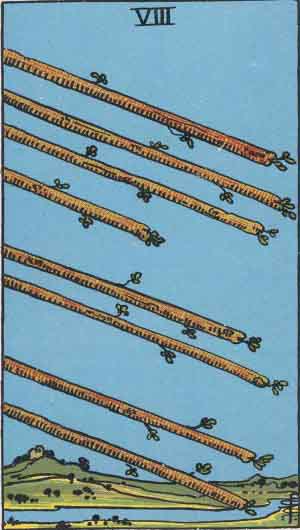 The Eight of Wands is the eighth card in the suit of Wands. It usually stands for activity in undertakings. Swiftness, as that of an express messenger. Great haste, great hope, speed towards an end which promises assured happiness. Generally, that which is on the move. Also, the arrows of love or passion.
General description
In the Rider-Waite Tarot deck, Pamela Coleman Smith depicts the Eight of Wands as eight wands flying through an open countryside. The river in the distance signifies movement as much as the staves themselves. This is a card showing the motion through the immovable.
Divinatory meaning
The "arrows of love" actually mean passion, and the "arrows of jealousy," the common counterpart of the same. The sensation of sex is born in this house and indicated by this card.
As to swift or speedy messages, this may sometimes happen, because the Scorpion is sometimes very sudden in its movements. What the card should have to do with country life is less evident. The mind in this house is very critical and sharp-witted, sometimes subject to doubt and misgivings, superstition and jealousy. It is in search of truth and enjoyment. Artistic abilities will run along the line of poetry, music and sculpture. It has always to do with the hidden side of things, the interior, or the inner life.
If reversed, the card can mean: Arrows of jealousy, internal disputes, and quarrels. Domestic disputes for persons who are married.