Three of Wands
Jump to navigation
Jump to search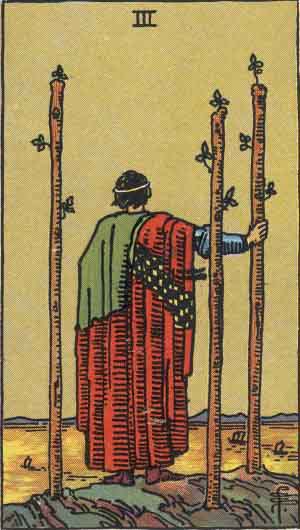 The Three of Wands is the third card in the suit of Wands. It usually stands for strength, commerce, and discovery. A very good card, it means that collaboration in business will be beneficial.
General description
In the Rider-Waite Tarot deck, Pamela Coleman Smith depicts the Three of Wands as a calm, stately personage, with his back turned, looking from a cliff's edge at ships passing over the sea. Three staves are planted in the ground, and he leans slightly on one of them. Those are his ships, bearing his merchandise, which are sailing over the sea.
Divinatory meaning
The Three of Wands signifies able cooperation in business, as if the successful merchant prince were looking from his side towards yours with a view to help you.
In the Occult Tarot, this card is tied to the Goetic demon Vual, who is able to predict the future and builds love between friends and enemies. The astrological significance of this card is tied to relationships and the forming of strong ties that will be cooperative and beneficial for all parties.
If reversed, the card can mean: The end of troubles, suspension or cessation of adversity.