Five of Cups
Jump to navigation
Jump to search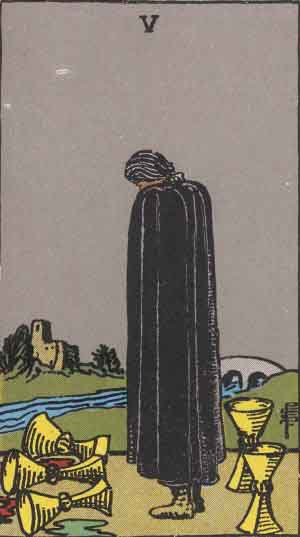 The Five of Cups is the fifth card in the suit of Cups. It usually stands for loss, but with something still remaining over. It is a card of inheritance, patrimony, and transmission, but not corresponding to expectations. A card of marriage, but not without bitterness or frustration.
General description
In the Rider-Waite Tarot deck, Pamela Colman Smith depicts the Five of Cups as a dark, cloaked figure, looking sideways at three prone cups while two others stand upright behind him. There has been a loss: three have been taken, but two are left; a bridge is in the background, leading to a small keep or holding.
Divinatory meaning
Family matters indicated by this card may include inheritance as well as marriage, but so many other things may also be included that it is difficult to evaluate them, and none of them are very specific. So we do not think it wise to say anything more definitely about this. The water of the feelings coming on the ascendant indicates sensitiveness and emotion, which may bring sorrow or pleasure, but generally mixed experiences and not without care. There may be material losses in consequence.
If reversed, the card can mean: News, alliances, affinity, consanguinity, ancestry, return, false projects.