Six of Pentacles
Jump to navigation
Jump to search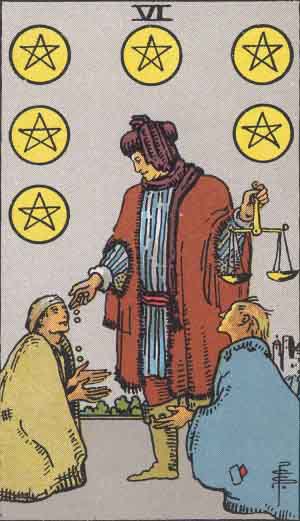 The Six of Pentacles is the sixth card in the suit of Pentacles. It usually stands for presents, gifts, and gratification. It can also mean attention and vigilance. It symbolizes prosperity at the present time.
General description
In the Rider-Waite Tarot deck, Pamela Coleman Smith depicts the Six of Pentacles as a merchant weighing money on a pair of scales and then distributing it to two needy beggars. The artwork shows a testimony to the merchant's own success in life, as well as to his goodness of heart.
Divinatory meaning
The descriptions given by tradition for this card are consequently correct and to the point. In this combination, the heart's desire and wish, the impulses to speculate and to create, to make love and to do good, all become active and acute.
So this must be a card of practical things, which for the greater part will be of a beneficial nature. Good action, which may include the fulfillment of duty as well as giving presents and alms. It means putting the heart into your action, working, acting, doing with much pleasure, conviction and self-confidence. This makes success almost certain. It means good-will and noble intention proved by gracious, charitable or useful action.
If reversed, the card can mean: desire, envy, jealousy, illusion.