Two of Swords
Jump to navigation
Jump to search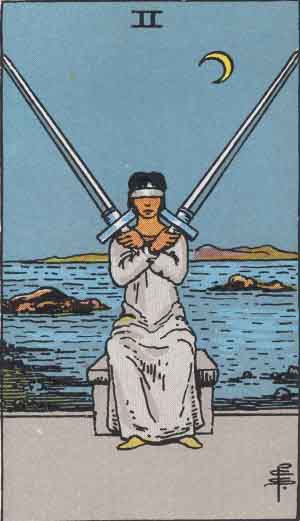 The Two of Swords is the second card in the suit of Swords. It usually stands for friendship and courage. Tenderness and affection. Artistic appreciation.
General description
In the Rider-Waite Tarot deck, Pamela Colman Smith depicts the Two of Swords as a hoodwinked female balancing two swords upon her shoulders. A crescent moon hangs over a lake pebbled with rocky islands.
Divinatory meaning
The Two of Swords denotes artistic appreciation, founded on the perfect functioning of the senses. Taste for art will be born from this and an exact knowledge of prices and values. It is the card which means quality and essential virtue, therefore, it has been rendered as falsehood when reversed.
In weak cases this card will certainly denote sensuality and lazy luxurious habits, which will be found accompanied in many instances by the desire for money. For the rest we see in such cases the possibility of stupid resistance, dullness, cruelty, relentless opposition and recreation, passive obstruction, perhaps silent, unforgiving hatred. In another respect it means the will to cultivate the soil, in the literal as well as in the figurative sense.
If reversed, the card can mean: Falsehood, duplicity, and disloyalty.