Ten of Pentacles
Jump to navigation
Jump to search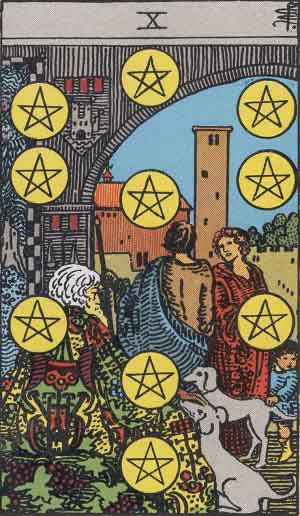 The Ten of Pentacles is the tenth card in the suit of Pentacles. It usually stands for financial gain and riches. It can also be connected to family matters, a home, or the abode of a family. In some cases, it indicates artistic value.
General description
In the Rider-Waite Tarot deck, Pamela Coleman Smith depicts the Ten of Pentacles as a man and woman beneath an archway which gives entrance to a house and domain. They are accompanied by a child, who looks curiously at two dogs accosting an ancient personage seated in the foreground. The child's hand is on one of them.
Divinatory meaning
This card has to do with economy, gain, and riches.
The influence of Venus and the Sun on the second house is very favorable for art as well as for monetary matters. So this must be a card of a great artistic value, foretelling success in music and painting and an immense love of the beautiful. It indicates possession without drawback or danger. These very intricate constructions themselves, however, cannot be under the rule of the vast and monotonously extensive house of Taurus. The Ten of Pentacles favors banking and insurance. It promises prosperity by means of economy, agriculture, or perhaps even dealings with art.
If reversed, the card can mean: Chance, fatality, loss, robbery, or games of hazard. Sometimes a gift, a dowry, or a pension.