Ten of Swords
Jump to navigation
Jump to search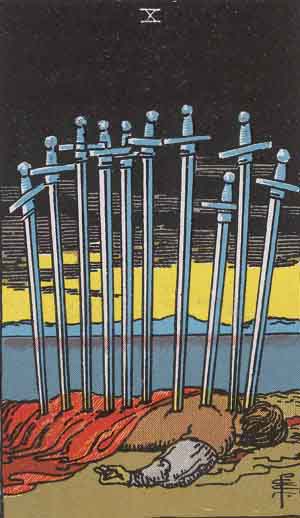 The Ten of Swords is the tenth card in the suit of Swords. It usually stands for pain, affliction, tears, sadness, and desolation. Imprisonment. Treason. It is not a card indicating violent death.
General description
In the Rider-Waite Tarot deck, Pamela Colman Smith depicts the Ten of Swords as a prostrate figure stabbed by the ten swords of the suit. Blood trickles from the body, soaking the earth. There is a blue field beyond with mountains beyond, but it does not appear to be waters that give life, but more like the River Styx.
Divinatory meaning
The card represents material necessity and the limits and corner-stones which it erects. It is ultimately the card of inescapable karmic results, or material karma itself. To the profane this very often means affliction, and the personality may be burdened by the weight of fate. The image of this card seems to suggest this burden.
On the other hand tradition is certainly not wrong in stating that it may represent gain and profit, as the card of karma will bring the full measure of material things in general and not only in the way of tragedy. Profit and advantage, however, may also become oppressive and its possibility must be considered here.
If reversed, the card can mean: Advantage, profit, success, or victory, but none of these are permanent; also power and authority.