King of Wands
Jump to navigation
Jump to search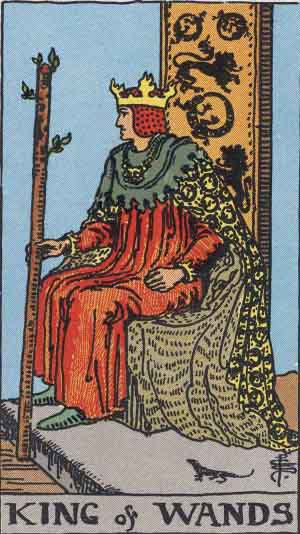 The King of Wands is the fourteenth card in the suit of Wands. It usually stands for a dark man who is friendly, honest and conscientious. Honesty. News concerning an unexpected heritage.
General description
In the Rider-Waite Tarot deck, Pamela Colman Smith depicts the King of Wands as a King uplifting a flowering wand. He's wearing, like his three correspondences in the remaining suits, what is called a cap of maintenance beneath his crown. He is connected with the symbol of the lion, which is emblazoned on the back of his throne.
Divinatory meaning
He is the lord of the intellectual kingdom, consequently he may denote every authority or personality of primary importance in some or other intellectual, mercurial or mercenary line. It must be some one representing a high authority himself or uniting opposite interests, while he himself, on account of the same authority he represents, may not or cannot be contradicted.
A governor, director of business, high official, postmaster, solicitor, manager, independent trader, Secretary of State, and the principles or functions for which they stand. The house of Mars imparts austerity, security and generally initiative and honesty; in weak cases there may be, however, some doubt with regard to his absolute integrity.
If reversed, the card can mean: Good, but severe; austere, yet tolerant. Advice that should be followed.