Four of Cups
Jump to navigation
Jump to search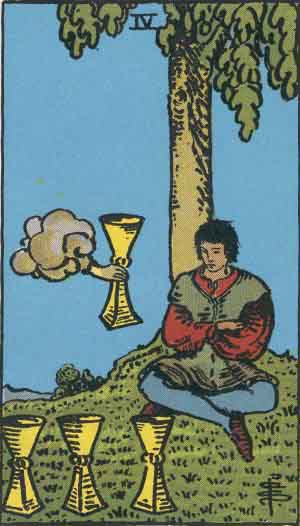 The Four of Cups is the fourth card in the suit of Cups. It usually stands for weariness, disgust, aversion, and imaginary vexations, as if the wine of this world had failed to cause satisfaction, another wine, as if a fairy gift, is now offered the wastrel, but he sees no consolation therein. This is also a card of blended pleasure.
General description
In the Rider-Waite Tarot deck, Pamela Colman Smith depicts the Four of Cups as a young man seated under a tree contemplating the three cups on the grass before him; an arm issuing from a cloud offers him another cup. His expression is one of discontent with his environment, certainly, but at the same time it shows the querent throwing his future on the waters of new adventure—leaving home and family to wander forth towards new experiences, enlarging the horizon of his views.
Divinatory meaning
There may be some ailment of the soul and in very weak cases alienation even. Sentiments not reciprocated, nor understood. A feeling of being outside one's proper environment.
There may be encounters with strangers or foreigners, and discoveries, as results of discontent or dissatisfaction with present conditions. So in relation to these conditions it may mean: failing to understand or to appreciate things as they are, estrangement of the world, which may lead to seclusion or secluded feelings.
If reversed, the card can mean: Novelty, presage, new instruction, new relations.