Seven of Cups
Jump to navigation
Jump to search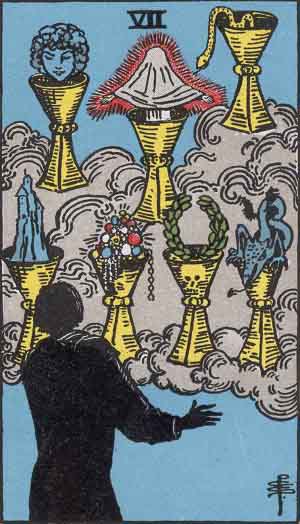 The Seven of Cups is the seventh card in the suit of Cups. It usually stands for fairy favors, images of reflection, sentiment, imagination, and things seen in the glass of contemplation. There may be some attainment of these things, but nothing permanent or substantial.
General description
In the Rider-Waite Tarot deck, Pamela Colman Smith depicts the Seven of Cups as a figures seeing strange chalices in a fantastic vision, but the images may be merely his hopes and dreams, or an internal desire that will never materialize. The changeful concrete mind and thought in which indeed nothing is permanent, and everything is passing.
Divinatory meaning
These effects must be varied, including the most fantastic plans and conceptions, and fancy is the most fitting word for this card. It will denote many intellectual proceedings and has to do with traveling for short distances, contemplating, and gathering impressions. The card represents the conditions of mind in which the surroundings are simply reflected in the soul. There may come seductive and suggestive images, some of which may be realized, but others will remain just fancy. The fairy favors may serve to mislead man.
Much in this card will not come to physical fruition.
If reversed, the card can mean: Desire, will, determination, or a new project.