The Magician
Jump to navigation
Jump to search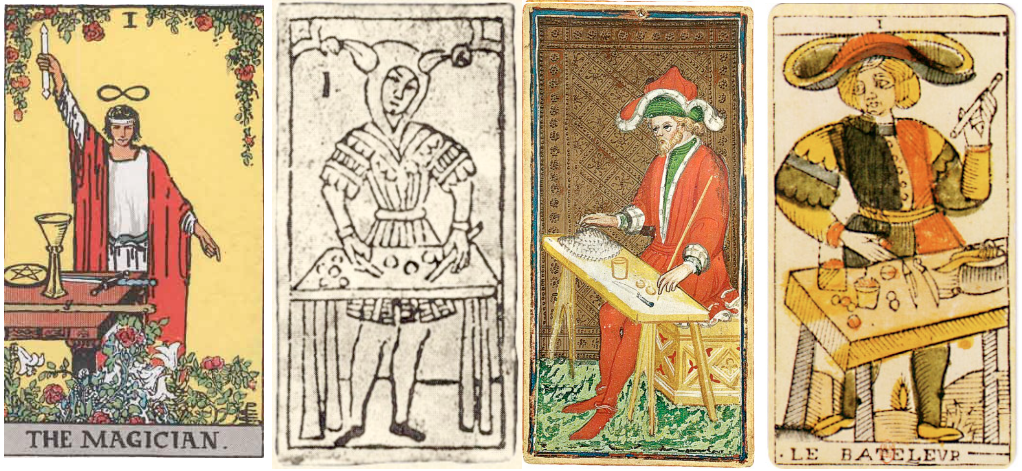 The Magician is the first card in the Major Arcana in most traditional Tarot decks. The Magician as an object of occult study is interpreted as symbolic of power, potential, and the unification of the physical and spiritual worlds.
Depiction
Visually, the 18th-century woodcuts reflect earlier iconic representations, and can be compared to the free artistic renditions in the 15th-century hand-painted tarots made for the Visconti and Sforza families. In the painted cards attributed to Bonifacio Bembo, the Magician appears to be playing with cups and balls.
In esoteric decks, occultists, starting with Oswald Wirth, turned Le Bateleur from a mountebank into a magus. The curves of the magician's hat brim in the Marseilles image are similar to the esoteric deck's mathematical sign of infinity. Similarly, other symbols were added. The essentials are that the magician has set up a temporary table outdoors, to display items that represent the suits of the Minor Arcana: Cups, Coins, Swords (as knives). The fourth, the baton (Clubs) he holds in his hand. The baton was later changed to represent a literal magician's wand.
The illustration of the Tarot card "The Magician" from the Rider–Waite Tarot deck was developed by A.E. Waite for the Hermetic Order of the Golden Dawn in 1910. Waite's magician features the infinity symbol over his head, and an ouroboros belt, both symbolizing eternity. The figure stands among a garden of flowers, to imply the manifestation and cultivation of desires.
Alternate names
In French, Le Bateleur, "the mountebank" or the "sleight of hand artist", is a practitioner of stage magic. The Italian tradition calls him Il Bagatto or Il Bagatello. The Mantegna Tarocchi image that would seem to correspond with the Magician is labeled Artixano, the Artisan.
In the Hieronymus Bosch Tarot by Travis McHenry, this card is called The Conjurer, and uses Hieronymus Bosch's painting of the same name to provide a depiction nearly identical to that found in traditional Tarot decks, right down to the signs of the suits laying upon his table.
Divinatory meaning
In divination, this card usually indicates skill, diplomacy, subtlety. It is also connected to doctors, medicine, and poor health. In stronger cases, the card can symbolize self-confidence and one's will. The Querent, if male.
In reversed position, it means: Physician, mental disease, disgrace, and disquiet. Trickery.