Queen of Pentacles
Jump to navigation
Jump to search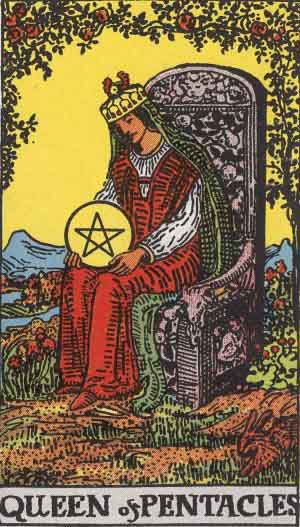 The Queen of Pentacles is the thirteenth card in the suit of Pentacles. It usually stands for opulence, generosity, magnificence, and security. If indicating a person, it will be a dark woman who is helpful.
General description
In the Rider-Waite Tarot deck, Pamela Colman Smith depicts the Queen of Pentacles as a dark woman, whose qualities might be summed up in the idea of greatness of soul. She has the serious cast of intelligence as she contemplates the symbol of a pentacle where she may see worlds therein.
Divinatory meaning
If indicating a person, this card suggests a woman who will be inclined to help and serve, to make herself useful, a nurse perhaps. She may be as an incarnation of Minerva herself, protecting science and craftsmanship as the Queen of Wands protects the arts. She is generous and beneficial. Her presence is a good augury and she brings always protection and material wealth or at least well-being, ruling this house of earth.
There may be some timidity; there is always honesty, honorable action, correctness and the right attitude to all problems of life, discretion, education, understanding, knowledge. These qualities certainly engender security in life.
If reversed, the card can mean: Evil, suspicion, suspense, fear, and mistrust.