Queen of Wands
Jump to navigation
Jump to search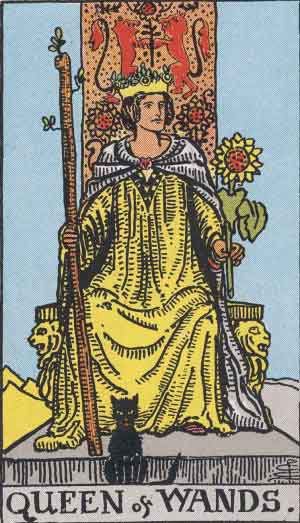 The Queen of Wands is the thirteenth card in the suit of Wands. It usually stands for a dark woman, someone who is friendly, chaste, loving, and honorable. If the card beside her signifies a man, she is well disposed towards him; if a woman, she is interested in the Querent. Also, love of money, or a certain success in business. A good harvest.
General description
In the Rider-Waite Tarot deck, Pamela Colman Smith depicts the Queen of Wands as her friend, actress Ellen Terry, sitting upon a thorne adored with lions and sunflowers. The black cat at her feet signifies the exaltation of the moon.
Divinatory meaning
The Wands throughout this suit are always in leaf, as it is a suit of life and animation. Emotionally and otherwise, the Queen's personality corresponds to that of the King, but is more magnetic. Country woman, honest, economical woman, honorable and loving, virtuous, chaste, good and inclined to be friendly and interest herself in the querent. The card may also indicate love of money, economy and gifts.
If reversed, the card can mean: Someone who is good, economical, obliging, serviceable. Goodwill towards the Querent, but without the opportunity to exercise it.