The Sun
Jump to navigation
Jump to search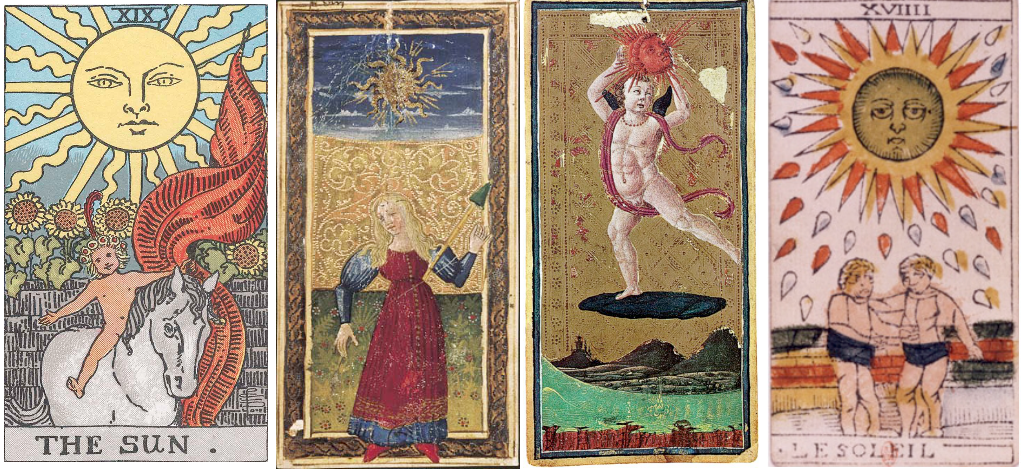 The Sun is the 19th card in the Major Arcana in most traditional Tarot decks.
Rider-Waite Depiction
In the Rider-Waite Tarot, artist Pamela Colman Smith depicted The Sun as a naked child sitting upon a white horse carrying a red banner. Overhead, a sun with many rays shines down upon the scene, which is rimmed with sunflowers in full bloom. All four elements: the child, the sun, the flowers and the horse, are facing the viewer, as though you will be receiving the benefits of all of them at once.
Symbolism
The Sun is the Sun, and this card means everything that astrology can tell about the Sun, in every respect and on all planes. It means the positive or masculine elements in general, the power and function of will and concentration, great benefit and mighty protection in spiritual as well as in mundane life and matters. It may signify the father of the querent and high authorities, king, president, or a ruler. The spiritual centre of man and the centre of importance in everything is indicated by it.
The card signifies the transit from the manifest light of this world, represented by the glorious sun of earth, to the light of the world to come, which goes before aspiration and is typified by the heart of a child.
Divinatory meaning
In divination, this card usually indicates material happiness, fortunate marriage, contentment.
In reversed position, it means: The same as when upright, but to a lesser degree.