Seven of Pentacles
Jump to navigation
Jump to search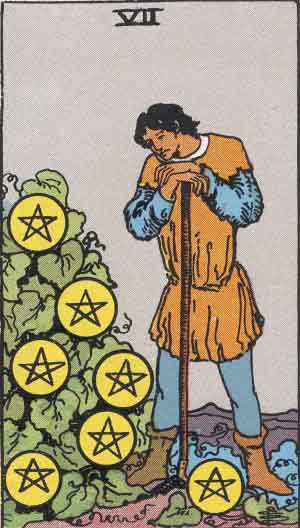 The Seven of Pentacles is the seventh card in the suit of Pentacles. It usually stands for business and bartering. Secondary meanings include quarrels, innocence, and ingenuity
General description
In the Rider-Waite Tarot deck, Pamela Coleman Smith depicts the Seven of Pentacles as a young man, leaning on his staff, looking intently at seven pentacles attached to a clump of greenery on his right. The symbolism suggests that these discs are his treasures and his heart is tied to the work he undertook to create and tend them.
Divinatory meaning
In the main, this card contains friendly surroundings and is the house of traffic and business, of practical cooperation and interrelation. Aquarius is the house of the angels too, and this may account perhaps for such renderings as innocence, and may mean that the individualistic and egotistic elements have to be modified into something more brotherly.
The Seven of Pentacles indicates good business, profitable friendship, assistance and help of friends. It suggests reliable and agreeable surroundings outside the family circle. The advantages will probably be the outcome of what has been sown before by good action.
If reversed, the card can mean: Anxiety regarding money, especially when it may be proposed to lend. Also, impatience.