Page of Wands
Jump to navigation
Jump to search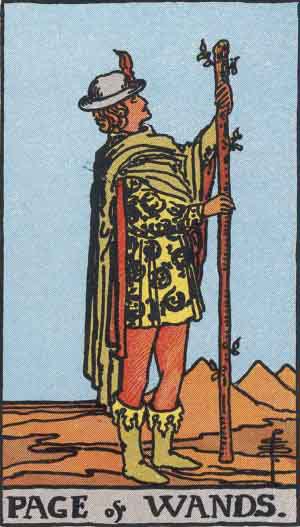 The Page of Wands is the eleventh card in the suit of Wands. It usually stands for a dark young man who may be a lover or an envoy. It may indicate a dangerous rival, if followed by the Page of Cups. This page has the chief qualities of the suit of Wands. He may signify family intelligence or a young man in search of a lady.
General description
In the Rider-Waite Tarot deck, Pamela Colman Smith depicts the Page of Wands as a young man standing in the act of proclamation. He is faithful, and his tidings are strange. He is in search of somebody. Possibly a postman or an envoy bringing a message.
Divinatory meaning
The Page of Wands is an acquaintance, a friend, conforming to the connection with the eleventh house. That with the third house even may bring his personal standing nearer to the querent, for example a brother or schoolmate.
If reversed, the card can mean: Anecdotes, announcements, and bad news. Indecision and the instability which accompanies it.