Five of Swords
Jump to navigation
Jump to search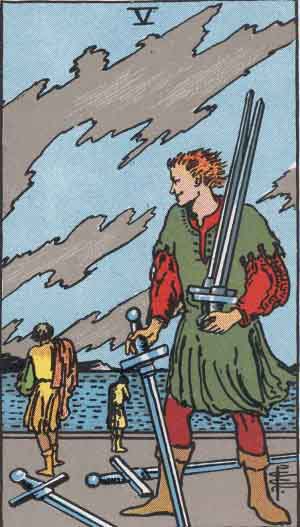 The Five of Swords is the fifth card in the suit of Swords. It usually stands for destruction, infamy, dishonor, and loss. Bitterness toward the world.
General description
In the Rider-Waite Tarot deck, Pamela Colman Smith depicts the Five of Swords as a disdainful man looking after two retreating and dejected figures. Their swords lie upon the ground. He carries two others on his left shoulder, and a third sword is in his right hand, point to earth. He is the master in possession of the field.
Divinatory meaning
The element of earth with its influence of Mars and Saturn on the Fifth house, ruling the heart, is certain to lead to a feeling of being wronged by the world, an inner bitterness and impotence, which hinders enterprise and business; so these will suffer. The heart itself, being of precisely the opposite nature, will suffer and find things awkward, horrible, and hideous.
However, he may be the master of the field if his inner force is great enough to conquer the afflictions which assail him. In other words, it need not be a card of absolute defeat, for there may very well be a good result, but nevertheless it denotes serious difficulty and a critical moment or period in life, in which the querent or some one to whom it relates will be threatened with the above-mentioned sad effects.
If reversed, the card can mean the same as when the card is facing upward, but with greater effect.