Page of Cups
Jump to navigation
Jump to search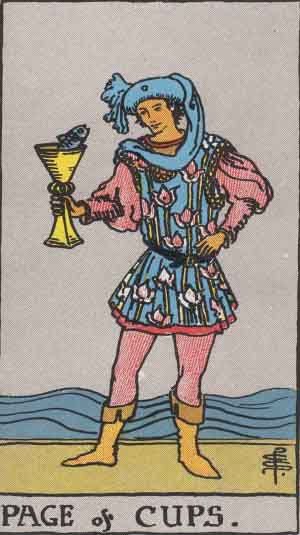 The Page of Cups is the eleventh card in the suit of Cups. It usually stands for a fair young man, one impelled to render service and with whom the Querent will be connected. A studious youth. News and messages.
General description
In the Rider-Waite Tarot deck, Pamela Colman Smith depicts the Page of Cups as a fair, pleasing, somewhat effeminate page, of studious and intent aspect, who is contemplating a fish rising from a cup to look at him. It is the pictures of the mind taking form.
Divinatory meaning
The Page or servant, messenger, of the cups suit has to do with friendship and relations (possibly marriage). He is the friend who brings inviting messages, seductive proposals, if not of formal marriage, perhaps of some love-affair or jolly gathering, sportive meeting, or intellectual entertainment. It is not impossible that the idea of seduction is connected with it or at least a strong sense of persuasion.
If it relates to news, there is emotion in it, news that will affect the feelings in some way or another. Relations will be of a passing nature, but may be very pleasant. The combination of the water with the air generally adds much to the instruction, development or education of people So there must be much of all this in the Page of Cups. The effects do not always bear the characteristic of reliability, nor of permanence.
If reversed, the card can mean: Inclination, attachment, seduction, and deception.