Strength
Jump to navigation
Jump to search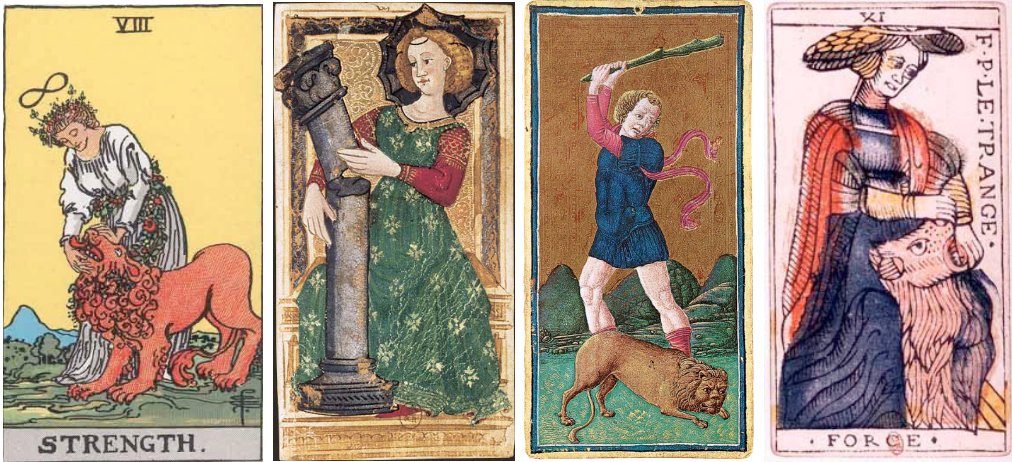 Strength is either the eighth card or the eleventh card in the Major Arcana in most traditional Tarot decks. It can be found exchanged with the Justice card in many decks.
In the Hieronymus Bosch Tarot by Travis McHenry, the Strength card is combined with the Justice card to create a new 11th card called "The Flower Pusher."
Rider-Waite Depiction
A woman, over whose head there broods the same symbol of life which was also present on card of The Magician, is closing the jaws of a lion. The only point in which this design differs from the conventional presentations is that her beneficent fortitude has already subdued the lion, which is being led by a chain of flowers. The forces of nature, which we have mastered, are friendly to us and this is very well expressed by the woman who is closing the jaws of a lion. The latter stands for passion more particularly. She derives this force from the eternal or superhuman and this is indicated by the symbol of eternity above her head.
Depictions in other decks
The early Italian Tarot decks depicted this card first as a woman toppling a stone pillar with brute force. Later decks showed a young man clubbing a lion into submission, and the Tarot of Marseilles took this one step further showing a young man forcing open the jaws of a lion.
The Vlad Dracula Tarot uses an image of Vlad the Impaler crushing the head of a monk, whose mouth is gaping open. This comes from a story of a monk who told Vlad the truth: that he was a cruel person who deserved to burn in Hell, and was immediately seized and killed by Vlad with his bare hands.
Symbolism
The grappling on the card designates the hand of man in the act of grasping strongly. Ideas of strength are therefore applied to this card. It is the grip of friendship. A well-known symbol in many societies of brotherhood consists of two hands united in a close grip of friendship. We are united with that which we have mastered and with people who are able to respond to our emanations of thought, or to whose emanations we ourselves respond.
Divinatory meaning
In divination, this card usually indicates power, energy, action, and courage. Complete success and honors.
In reversed position, it means: Abuse in power, weakness, discord, sometimes even disgrace.