Six of Cups
Jump to navigation
Jump to search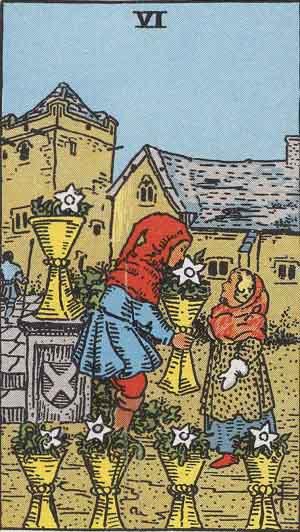 The Six of Cups is the sixth card in the suit of Cups. It usually stands for the past and of memories, looking back on childhood. Happiness, enjoyment, but coming from the past. Things that have vanished. Another reading reverses this, giving new relations, new knowledge, new environment, and then the children are disporting in an unfamiliar precinct.
General description
In the Rider-Waite Tarot deck, Pamela Colman Smith depicts the Six of Cups as children in an old garden, their cups filled with flowers.
Divinatory meaning
The Six of Cups relates to the country, and in connection with the latter the card will indicate rustic pleasures, enjoyment of country life and restoration to health by residence on the land. Happiness is surely a characteristic of this card, but we should say particularly in a simple and country life. Further we ascribe much artistic value to it, especially in painting, love for the picturesque. It means receptivity for beautiful impressions in general. On the other hand it may denote a love of good cheer and feasting. Good health and good humor are certainly results of this combination.
On account of the Taurian qualities it will impart the tendency to collect objects of art and of antiquarian value; also an instinctive understanding of the same, so it promotes dealing in such objects. Appreciation of music in the lighter style, love of the theatre, but love of Nature above all.
If reversed, the card can mean: The future, renewal, that which will come to pass presently.